Local Nielsen ratings snapshot (Mon., March 31) -- Rangers and Conan and Ewings, oh my
04/01/14 10:08 AM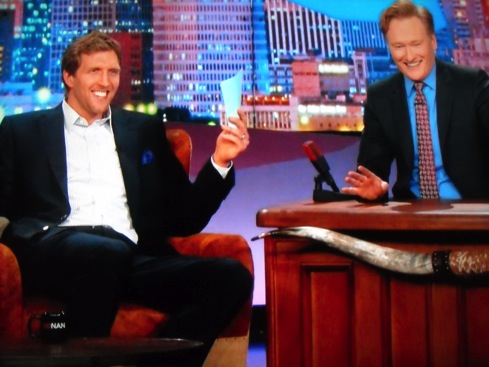 Dirk Nowitzki made a winning impression Monday night during first of four Conan shows at Dallas' Majestic Theatre. Photo: Ed Bark
By ED BARK
@unclebarkycom on Twitter
Monday's TV plate was loaded -- with Texas-themed attractions plus the series finale of CBS'
How I Met Your Mother
. Let's go local first.
The Texas Rangers' season opener, a 14-10 thrashing by the Philadelphia Phillies, filled the afternoon hours on Fox Sports Southwest. On an otherwise picture perfect day, the game averaged a not so hot 106,520 D-FW viewers. A total of 39,080 were within the advertiser-prized 18-to-49 motherlode.
Later Monday on TBS, the first of four
Conan
shows being taped in Dallas at the Majestic Theater drew 78,114 total viewers in the 10 p.m. hour. A sizable percentage -- 55,364 -- were in the 18-to-49 age range. That easily made
Conan
the biggest TBS draw of the day in this key demographic.
At 8 p.m., a new episode of TNT's
Dallas
had 92,317 total viewers; but only a measly 6,513 of them were 18-to-49-year-olds.
So among "premium" viewers,
Conan
ranked highest and
Dallas
lowest. But the Rangers drew the biggest overall crowd.
Let's move on to
How I Met Your Mother
, whose finale angered a lot of ardent fans -- in the Twitter-verse at least.
HIMYM
, with an expanded one-hour closer, drew 319,559 total viewers in a rock 'em, sock 'em matchup against the opening hours of NBC's
The Voice
(No. 1 with 333,761 viewers) and ABC's
Dancing with the Stars
(No. 3 with 276,951).
Among 18-to-49-year-olds,
The Voice
also prevailed with 185,632, followed by
HIMYM
(162,835) and
Dancing
(a distant third with 55,364).
CBS' post-
HIYMY
premiere of the sitcom
Friends with Better Lives
ran a way behind third in total viewers with 156,229. It also took the bronze with 18-to-49-year-olds in a relatively close race with
Dancing
.
The Voice
pounded both shows.
NBC also rolled to a big win at 9 p.m. with
The Blacklist
, which had 383,470 total viewers and 127,011 in the 18-to-49 measurement.
Here are Monday's local news derby results.
NBC5 capitalized on its big lead-in advantage from
The Blacklist
to win at 10 p.m. in both total viewers and 25-to-54-year-olds (main advertiser target audience for news programming). The Peacock likewise swept the 6 p.m. competitions.
Fox4 as usual -- and bordering on "as always" -- took both ends of the 6 a.m. races. Fox4 also nipped NBC5 in total viewers at 5 p.m. but CBS11 won by a paper-thin margin over Fox4 in the 25-to-54 age range.
Email comments or questions to:
unclebarky@verizon.net