Invasion of the game snatchers, with the Mavs returning from six feet under
05/24/11 06:43 AM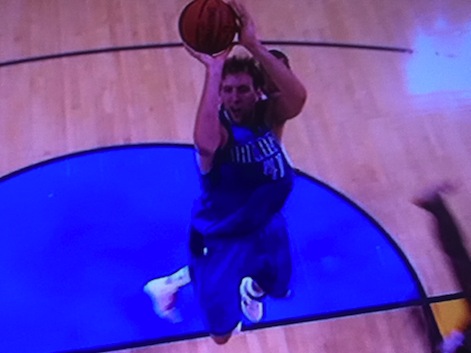 Dirk sinks one of his unstoppables in showdown at the OKC corral.
Photo: Ed Bark
By ED BARK
Holy buckin' bronco balls -- and other thoughts on the Dallas Mavericks' incredible from-beyond-the-grave win at Oklahoma City Monday night.
***
First off, let's recall the Jack Buck call after the Los Angeles Dodgers' limping Kirk Gibson hit a two-run pinch-hit home run in the bottom of the ninth to beat the Oakland A's and unhittable closer Dennis Eckersley in Game 1 of the 1988 World Series. "I don't believe what I just saw!" he exclaimed. Likewise.
***
The Thunder led by 15 points on their home floor with just under 5 minutes to play. Dallas had been beaten to the ball all night long by the Thunder kids. Just about everyone on the planet would have to admit they'd buried the Mavs in a pine box and made this series even at 2-2. And then came the most miraculous, improbable comeback in the team's star-crossed history. But to the great credit of the Thunder fans, they were still chanting "OKC!" during the overtime period after Dallas had sealed a believe-it-or-not 112-105 victory.
***
Substitute point guard J.J. Barea obviously can be a spark plug capable of offensive explosions, as he showed in Game 1. But he's still guilty at times of trying to do too much, going shot-happy when he's got Secretariat -- a k a Dirk Nowitzki -- looking for the ball. That's what happened Monday night, with Barea all but ignoring Nowitzki until coach Rick Carlisle finally pulled him for good and deployed Jason Kidd. Here's a guy who knows how to find Dirk -- and vice-versa. That was the difference-maker in the 4th quarter, with Nowitzki sending ESPN's play-by-play trio into spasms of superlatives as he made one clutch shot after another. And then in OT, a double-teamed Dirk improvisationally found Kidd in the corner for a 3-pointer that sealed the deal. On this night at least, Barea was a liability who helped put Dallas in a deep hole. Kidd and Nowitzki then combined to shovel them out.
***
Still, Nowitzki had to make two free throws with about 6 seconds left just to tie the game. After he made the first, OKC tried to freeze him by sending a couple of kids out to mop up alleged sweat on the floor near the Thunder bench. Amazingly, the referees allowed this to go on for a seeming eternity while your friendly content provider cried foul. It shouldn't have been allowed to happen. And if there's a next time on either team's part, a technical foul should be called. Nowitzki calmly made the second shot anyway under immense pressure. But had he missed, we'd all be mopping the floor with today's post mortems.
***
ESPN/ABC head play-by-play guy Mike Breen is at the top of his game. Even his "Puts it in!" calls are starting to rival Marv Albert's "From downtown!" He's also a very knowledgeable voice of sanity whenever Jeff Van Gundy or Mark Jackson go bonkers.
***
Courtside reporter Doris Burke has a tough job. The coaches really don't want to be bothered between quarters, but the NBA mandates it. And most of the players would rather be in their celebratory locker rooms instead of in her company for the obligatory star-of-the-game interview. So Burke in fact is better than some, although her blunt, staccato style of questioning is increasingly ripe for parody.
It goes something like this: "Our Jeff Van Gundy said you were the best German import since the potato pancake. How do you respond?"
Or: "Your team just gave up 113 points in the first quarter. Why?"
Game 5 is Wednesday night in Dallas. It's going to be bedlam.