This just in: a night in the lives of D-FW's late night newscasts (Tuesday, May 7)
05/08/13 12:54 PM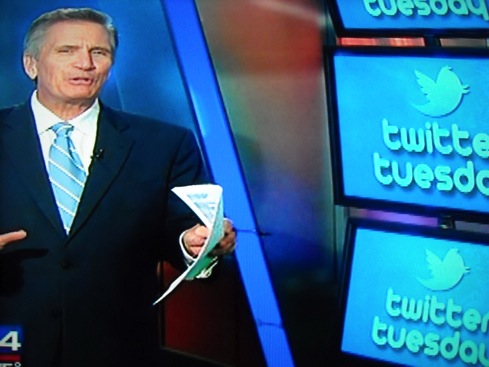 Fox4 sports anchor Mike Doocy does 140 characters. Photo: Ed Bark
By ED BARK
@unclebarkycom
WFAA8's
Dale Hansen
isn't this market's only madcap sports anchor.
Fox4's
Mike Doocy
takes a weekly walk on his wild side in the station's latest 9 p.m. newscast feature. "Twitter Tuesday," ostensibly tied to sports tweets, also can run a little far afield.
The latest collection included a twit pic of Wilt Chamberlain and Arnold Schwarzenegger at the Playboy Mansion; a squiggle on Carrie Underwood replacing Faith Hill as
Sunday Night Football
's opening songstress; and a jab at the "Screaming Spurs Lady" (whose recurring audio pierced some ears during Monday night's crazy double overtime game against Golden State).
Then Doocy pulled a Dale, gleefully jabbing at news anchor
Heather Hays
for her tweet on New Jersey Gov. Chris Christie's latest news-making activity. "Have to admit I feel bad about eating a Reese's Peanut Butter Cup while watching coverage about Gov. Christie's secret weight loss surgery!"
@heatherhaysfox4
said on her Twitter page.
"So condescending," Doocy added.
Hays feigned innocence before Doocy re-loaded. "We're not all as naturally slim as you are, Heather," he said. "Save your judgment for somebody else."
In print that sounds cold. In fact it was "all in good fun" -- as Doocy noted before his weekly toy was taken away until next Tuesday.
Doocy is doing what he can to "differentiate" his sports segments on a one-hour newscast that competes with network entertainment programming on ABC, CBS and NBC. This also has included extended sit-down live interviews that basically supplant traditional sports highlight packages. That stuff increasingly is saved for the half-hour 10 p.m. Fox4 newscast, which is more nuts and bolts while also tending to be a boil-down of what viewers already have seen in the preceding hour.
Fox4's 9 p.m. editions otherwise tend to set their scenes with heavy doses of crime and tragedy. For the first 20 minutes Tuesday (which included one commercial break), viewers got a non-stop onslaught of bad news, beginning with a lawsuit against a bar that allegedly over-served a lethal drunk driver and ending with another West Nile virus death.
The Three Musketeers of the Apocalypse were Fox4's principal nightside reporters --
Brandon Todd, Natalie Solis
and
Calvert Collins
. All are very capable street reporters who have the luxury of extra time to tell their stories. Sometimes, though, the drumbeat is too incessant -- and the followup anchor Q&As too obviously scripted when they're not merely extraneous. It's not always this way, but the police blotter approach has been very noticeable so far this week.
Over on NBC5, co-anchor
Meredith Land
over-earnestly sought to have it both ways while teasing her station's opener, titled "Story of Survival."
It's "a story that may anger you and inspire you all at the same time," Land said before longtime Night Ranger
Scott Gordon
interviewed a woman who nearly died after being car-jacked a year ago. Nineteen surgeries later, Nina Cherry is still hobbled but talking about her experience for the first time, Gordon told viewers.
Cherry also talked about her road to recovery with CBS11 reporter
Brian New
. But that station led with a story that its rivals also ganged up on -- the surprise arrest of Michael Moore in connection with the murder six months ago of his teenage niece, Alicia Moore. WFAA8's
Jason Whitely
had the best report on this topic, mainly because his station had footage of Michael Moore decorating cupcakes last February on what would have been Alicia's 17th birthday.
"It hurts sometimes, but I'm over it now and it's time to rejoice," her now accused uncle said on camera. "You know, you've got to get over it and move on."
WFAA8 topped its newscast with ever-dogged investigator
Byron Harris'
confrontation with a roofing and restoration company co-owner suspected of bilking veterans by using them for hard labor and then not paying them.
Ron Robey and his two partners "have a history of turning up in places where tragedy has occurred, and leaving unhappy people in their wake," Harris said in the set-up to his story.
After a stare-down in tragedy-struck West, TX, Robey told Harris that everyone had a right to their day in court and that he'd show up to be interviewed at WFAA8 studios. But that never happened, Harris said. And Robey's lawyer then declined to comment.
CBS11's best story came from i-Team member
Jack Fink
, who took a lengthy look at allegations that the city-run Fort Worth animal shelter lately has released a number of dogs with distemper to unwary adopters. Some have died and others had to have extensive medical treatments at their new owners' expense. The issue came up Tuesday night at a Fort Worth City Council meeting. Fink solidly gave viewers both sides of the story.
NBC5 "consumer specialist"
Deanna Dewberry
, who's being heavily used of late, had one of her lesser stories this time out. She tried to sell viewers on the heartbreak of high school prom-goers who got ripped off when trying to buy cheap knock-offs online. Some girls "were in tears over their dress drama," Dewberry told viewers.
But they got over it. And all will live to see their next corsages.
Email comments or questions to:
unclebarky@verizon.net