Local Nielsen ratings snapshot (Wed., Sept. 8) -- weather coverage swells local news numbers, particularly in early evening
09/10/10 09:04 AM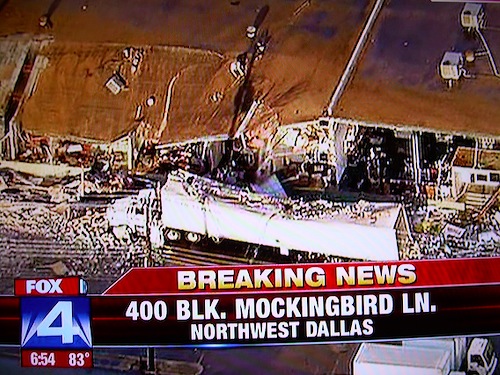 Aerial shots focused on this post-tornado warehouse. Photo: Ed Bark
By ED BARK
Wednesday's two-pronged weather attack -- rain and flooding in the morning/afternoon and an early evening tornado touchdown -- had the full attention of local TV's major news providers.
Nielsen ratings breakdowns show WFAA8 dominating in early evening hours but in a four-way horse race during the flooding stage.
From 11:30 a.m. to 1 p.m., CBS11 averaged 108,581 D-FW viewers, followed by Fox4 (95,008), WFAA8 (88,222) and NBC5 (74,649).
But Fox4 led by a relatively comfortable margin among 25-to-54-year-olds, with CBS11 dropping to fourth and WFAA8 moving into second place ahead of NBC5 during those 90 minutes.
Overall, ratings were at best marginally higher than the previous day's totals for entertainment programming and regularly scheduled noon newscasts on Fox4 and WFAA8. The available home audience pool is limited in daytime hours, and workplace viewing isn't factored in.
All four stations, plus CW33, also converged on the early evening tornado touchdown while recapping the day's earlier flooding.
Overall from 5 to 7 p.m., WFAA8 led by a wide margin with an average of 318,956 total viewers. Fox4 and NBC5 tied for second with 203,589 viewers each while CBS11 averaged 176,444.
WFAA8's peak audience came between 6:30 and 6:45 p.m., when the station drew an
American Idol
-sized 556,477 viewers.
Fox4's biggest audience was from 6:45 to 7 p.m. (285,025 viewers). NBC5 peaked between 6:30 and 6:45 p.m. (257,879 viewers) and CBS11 between 6:45 and 7 p.m. (237,521 viewers).
WFAA8 also led by a lesser margin from 5 to 7 p.m. among 25-to-54-year-olds, with Fox4 a solid second ahead of NBC5 and CBS11.
WFAA8 did get off to a slow start, however. From 5 to 5:30 p.m. the station ran third in total viewers and fourth with 25-to-54-year-olds. But when the dramatic tornado damage pictures started kicking in, so did WFAA8's ratings. CW33 ran fifth across the board.
Elsewhere Wednesday, NBC's 8 p.m. results edition of
America's Got Talent
, which reduced the field to four finalists, drew prime-time's biggest audience with 332,529 total viewers.
Opposite
Talent
, The CW's premiere of
Hellcats
ran fourth at 8 p.m. with 142,512 viewers, beating ABC's rerun combo of
Modern Family
and
Cougar Town
. But among 18-to-34-year-old women,
Hellcats
was outdrawn only by
Talent
.
Fox4's 9 p.m. local newscast dominated at that hour among all audience demographics, drawing 312,170 total viewers.
In Wednesday's 10 p.m. local news competitions, WFAA8 ran first in total viewers but Fox4 claimed the gold among 25-to-54-year-olds.
NBC5 had a doubleheader win at 6 a.m., although Fox4 and WFAA8 each were only one-tenth of a point behind in the 25-to-54 demographic.