This just in: A night in the lives of D-FW's late night newscasts (Thurs., April 24)
04/25/08 10:11 AM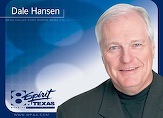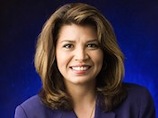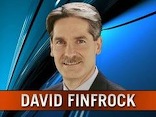 "Sweeps" point people: Dale Hansen, Carol Cavazos, David Finfrock.
By ED BARK
WFAA8's
Dale Hansen
went Donkey Kong on "Pacman" Jones and Dallas Cowboys owner Jerry Jones.
CBS11 reporter
Carol Cavazos
and her station strove to portray a hidden camera story on cheating husbands as a civic-minded public service.
And NBC5 again went deep into the personal life of longtime meteorologist
David Finfrock
, this time in tandem with co-anchor
Jane McGarry
.
If all of this smells like "sweeps" spirit, it is. The highly competitive four-week May "book" opened for business Thursday. And we'll once again be chronicling the weeknight plusses and minuses of the 10 p.m. newscasts on NBC5, WFAA8 and CBS11, plus Fox4's featured 9 p.m. editions.
Hansen goes "Unplugged" whenever he gets really revved up about something. But he billed this one as a "scorched earth commentary," which it pretty much was.
"Cowboys owner Jerry Jones has reached a new low, even by his standards," Hansen began in reference to the team's signing of oft-arrested cornerback "Pacman" Jones after already tempting fate with Terrell Owens and Tank Johnson.
No TV sports anchor in this market has -- or likely ever will -- throw verbal grenades with such gleeful abandon. And Hansen will answer all your emails, too.
"I've always liked Jerry Jones," he continued, preparing viewers for more heavy weapons fire. "Even defended him when he broke up one of the NFL's best radio teams. He had me fired the day after I quit. But I was fine with it then, and still am because I couldn't do it anymore looking at the team they had become and the coach they had. I don't know how Brad Sham and (CBS11 sports anchor) Babe Laufenberg can do it now."
Furthermore, "if character really doesn't matter, why don't they sign Osama bin Laden to play wide receiver? They need one. He's 6 (feet) 4, and we know nobody can catch him." Pause to insert sonic laugh from co-anchor
Gloria Campos
.
Well-heeled season ticket-holders who live and die with the Cowboys wouldn't hire Jones at their companies, Hansen continued. And they'd "shoot him through the glass" if he showed up on their front porches to date their daughters.
His big finish was more than a bit of a stretch, but it still took some balls to throw it out there.
"I've always thought he (Jones) was a good man with a good heart trying to win the right way. But not anymore," Hansen said. "At long last have you no sense of decency, sir?"
That referred to Joseph Welch's famed Senate subcommittee denunciation of communist-hunting Sen. Joe McCarthy, who during the 1950s "was destroying the careers of many people," Hansen said. "Jones is destroying the legacy of a once-proud football franchise. At long last, have you no sense of decency, sir?"
Campos quickly distanced herself, urging viewers to "get busy with those emails."
"I'm looking forward to 'em," Hansen said. And in fact he is. Whatever you think of him, here's a guy who answers back and likely always will. He's a big-mouthed, straight-shootin' sonofagun who welcomes your return fire. And yes, there's still a lot to be said for that.
Over on CBS11, reporter Cavazos popped into view for the night's featured story, "Looking to Cheat," after a pitchman informed viewers, "What they told us about their affairs could save your marriage."
"They" were responders to an unidentified female CBS11 producer who signed on to the Web site ashleymadison.com to solicit married men.
"We spent about $50 dollars and set up a profile," said Cavazos. Clearly CBS11 spares no expense when it's doing the public's business.
Three would-be mail suitors were selected to meet for "coffee dates" at a venue where hidden cameras rolled. Their faces were blurred and their voices disguised. A 40-year-old married father from Plano said "he's not unhappy in his marriage, but he's not happy either," Cavazos told viewers.
Dallas marriage counselor and sex therapist James Robbins later was brought in to throw out a few deep thoughts. Such as, "If couples would just discuss their sexual desires, it might end the tension and lead to compromise."
Cavazos noted that CBS11 also deployed a male decoy, but got only one emailed response, from a woman in New York. So drat, that was a non-starter.
Co-anchor
Doug Dunbar
wondered why the report didn't identify those nasty would-be philanderers.
"Doug, we did not want to 'out' these men," said Cavazos, as if any of them would have been dumb enough to waive their rights to privacy under such circumstances. "We didn't want to ruin their lives. We just wanted to know why."
Anyone's eyes rolling yet?
The Finfrock story is a tough one to really criticize. On the first night of the February 2007 ratings sweeps, NBC5 took viewers behind the scenes of his persistent on-air coughing jags, following a heavy round of promotions. The Peacock had D-FW's most-watched 10 p.m. newscast that night.
Now, sad to say, Finfrock's 34-year-old daughter, Jennifer, has been undergoing chemotherapy and radiation treatments for breast cancer. So NBC5 kicked off the May "sweeps" with a look at how he's coping.
McGarry, who otherwise had the night off, did the piano-accompanied narration while Finfrock showed viewers kindergarten, wedding and other pictures of his daughter.
"But for our friend David Finfrock, there are now times that shake a dad's soul," McGarry then said gravely while he was shown solemnly nodding his head in a black-and-white closeup shot.
Obviously, everyone should wish his daughter a full recovery. Jennifer has much to live for, including her four- and six-year-old daughters.
But gosh, does this really belong in a newscast? Or does it smack way too much of ratings sweeps exploitation? Can't anything be private anymore when it comes to a prominent news personality's trials and tribulations?
"There's no way she's gonna give up," Finfrock said at story's end before he re-appeared at his NBC5 weather center in the company of substitute anchor
Meredith Land
.
"Of course, David, the entire NBC5 family is so proud of your strength," she told him before Finfrock promoted Saturday's annual Susan G. Komen "Race for the Cure," which he'll be attending. He also displayed some tissue provided by the newscast's producer. But "I wasn't sad," Finfrock said. "I was proud."
In the end, anchor
Mike Snyder
of course couldn't resist injecting himself.
"David, I'd be remiss without saying I'm proud of you and I'm proud of Jennifer," he said. "I'm glad I know you."
Again, here's hoping that Jennifer will have a full recovery. Enough said.
AND IN OTHER NEWS"DOOC" IS WILD
-- Fox4's 9 p.m. newscast was a largely forgettable mix of national video and local stories that mostly were also covered in varying degrees by rival stations.
Still, sports anchor
Mike Doocy
, lately worried about the longterm future of his sports segment, put a little hop in his step with a closing riff on the terrible baseball being played by the Texas Rangers.
He earlier had speculated that manager Ron Washington might not last beyond Memorial Day, Doocy said. But now
Cinco de Mayo
could be the cut-off point.
"Man, this thing is just
way
off the tracks," he told anchors
Steve Eagar
and
Heather Hays
. "No signs of gettin' any better. See ya at the ballpark this weekend, everybody."
GOOD WORK
-- WFAA8 veteran
Jim Douglas
turned in another interesting report, this one on a "DWI Loophole" that has given some offenders a basic slap on the wrist if they're passed out behind the wheel when discovered by police.
Also of note: CBS11 reporter
Jay Gormley
raised questions about whether American Airlines was behind the sudden removal of a prominent pilots' union billboard that encouraged passersby to tell their AA horror stories on a new Web site.
BLOOPER REEL
-- WFAA8 anchor Campos blurted, "Well, my allergies are acting up tonight" without further explanation while the station mistakenly put up a "Housing slump" graphic over video of the latest developments from the polygamist sect compound in Eldorado.
During a break from Thursday's 10 p.m. show, NBC5 teased a scary tornado story (titled "When Second Count') that supposedly would be blowing in "Tonight at 10." The station meant to wait until Friday to flog that one.
PETE 'N" DALE'S PLAYHOUSE
-- Following his weathercast, WFAA8's
Pete Delkus
turned to Campos and said, "Dale was telling me that you've got a new wig."
Actually, though, it's just a shorter hairstyle, he added.
"I like it," said Hansen. "I mean, seriously, I like women who go for the little boy look."
Boys will be boys, particularly on WFAA8's late nighters. Anchor
John McCaa
again sucked it up and shook his head silently.
AND NOW A WORD ABOUT GLORIA'S CLEAVAGE
-- It was notably prominent Thursday night, particularly in recurring close-up shots at news desk level.
This used to be a strict taboo, but women anchors seem to be showing progressively more skin at all levels of TV news. WFAA8 reporter and weekend anchor
Shelly Slater
, seen live Thursday night from a Wylie spillway, also invariably shows more than a little skin whether she's in the field or at an anchor desk.
Meanwhile, the station's male reporters are supposed to wear ties during their dispatches. That includes the reasonably hunky
Craig Civale
. Perhaps the ladies would like to see a little more?
Nineteen nights to go.