Local Nielsen ratings snapshot (Fri.-Sun., June 10-12) -- top o' the world for Mavs and their viewers
06/13/11 09:53 AM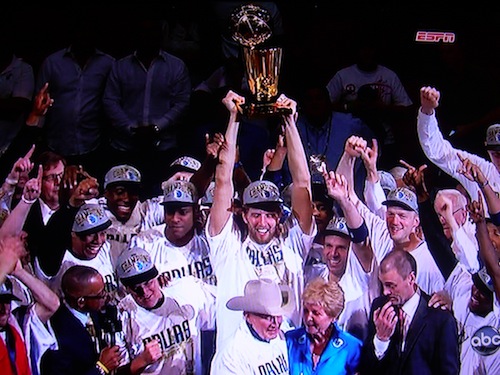 Happy together: Mavs hoist one after vanquishing Miami Viceroys.
Photos: Ed Bark
By ED BARK
The Dallas Mavericks' Sunday night expulsion of the Miami Heat, giving the team its first ever NBA title, eclipsed both the Texas Rangers' biggest World Series haul and the Dallas Cowboys 2010 season high.
The 105-95 win, televised on the LeBron Broadcasting Company (ABC), averaged 1,869,939 D-FW viewers from its 7:07 p.m. start to its 9:44 p.m. finish. That easily surpassed the previous high of 1,426,694 viewers for Thursday night's Game 5.
The Game 6 Mavs victory party also had more viewers than the concluding Game 5 of the Rangers-San Francisco Giants World Series (the most-watched with 1,433,620 viewers) and the biggest crowd last season for the Cowboys (1,627,540 for a Dec. 10 home loss to the Philadelphia Eagles on NBC's
Sunday Night Football
.
However, Game 6 of Mavs-Heat fell just a bit short of the 1,940,882 D-FW viewers for the Cowboys' first round Jan. 2010 post-season thrashing of the Eagles. But the Cowboys' second playoff game of that year -- a thorough beat-down from the Minnesota Vikings -- came up shy of the Mavs' championship win. It fell to 1,696,575 viewers.
So yes, as WFAA8 sports anchor Dale Hansen keeps noting in these spaces, the Dallas Cowboys remain an overall bigger deal in D-FW than the Dallas Mavericks when both regular season and playoff games are factored in. But give Cowboys owner Jerry Jones more time to further screw things up, and then check back with us in a few years.
Sunday's Mavs-Heat game peaked at an extraordinary 2,430,921 viewers in its final 15-minute increment. The D-FW market has 6,925,725 potential TV viewers according to this year's estimates from Nielsen Media Research. So that's quite a chunk of North Texas, and doesn't include the fans who packed the American Airlines Center to watch the game. Nor is it a reliable measurement of the thousands upon thousands more who jammed area sports bars.
Mavs-Heat also had a huge haul of advertiser-coveted 18-to-49-year-olds, averaging 954,274 for the entire game and peaking at 1,240,556 for the closing 15 minutes.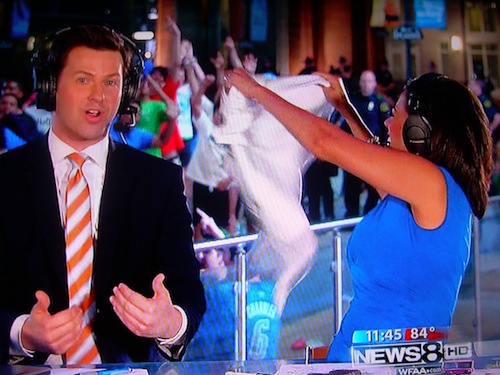 "Izzy" revs up the Victory Park crowd by waving NBA title t-shirt.
Extended post-game coverage on ABC and affiliate WFAA8 then dominated the ratings late into the night. WFAA8's local coverage, with Hansen and Bob Ortegel live in Miami and early morning anchors Cynthia "Izzy" Izaguirre and Ron Corning presiding from a crazed Victory Park, was still pulling in 408,616 total viewers before the station signed off a few minutes before midnight.
Meanwhile on CBS, the annual prime-time Tony Awards never had a chance, averaging a sub-piddling 69,257 viewers from 7 to 10 p.m. Still, that was the most-watched Sunday night English language program opposite Mavs-Heat. On Univision23, though, a Mexico-Costa Rica Gold Cup soccer match drew a nice-sized 297,805 viewers in prime-time hours opposite the Mavs.
Saturday's biggest sports draw, the early evening running of the Belmont Stakes on NBC, lured 159,291 viewers during the 15-minute increment in which the race was actually run.
On Friday night, NBC's Game 5 of the Stanley Cup finals between Vancouver and Boston had 69,257 viewers opposite TXA21's Rangers-Twins game (166,217 viewers).
In Friday's local news derby results, WFAA8 ran the table at 10 p.m. with wins in total viewers and 25-to-54-year-olds, the main advertiser target audience for news programming. The ABC station also swept the 5 p.m. races while notching a 6 p.m. gold in the 25-to-54 demographic.
CBS11 ran first at 6 p.m. in total viewers; the 6 a.m. spoils were split between NBC5 in total viewers and Fox4 with 25-to-54-year-olds.