This just in: A night in the lives of D-FW's 10 p.m. news titans -- WFAA8 and CBS11 (Fri., Nov. 20)
11/23/09 01:48 PM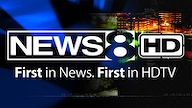 By ED BARK
WFAA8 apparently missed the memo.
CBS11 ended its brief fling with elongated commercial-free news content Friday. WFAA8, which copied its arch rival's ratings "sweeps" gambit on Thursday's 10 p.m. edition, went ahead with another 23-minute helping of news and weather before yielding to its first batch of sponsors' messages.
The usual format is 10-to-14 minutes of news before breaking away and returning with weather. But CBS11, locked in a down-to-the-wire 10 p.m. ratings race with WFAA8, tried to keep viewers hooked earlier last week with what amounted to a news/weather marathon. On Friday night, though, CBS11 returned to form, cutting to commercials at the 10:13 p.m. mark.
As posted earlier, CBS11 ended up nipping WFAA8 by just one-tenth of a rating point (6,786 viewers) in Friday's Nielsens. WFAA8 is the reigning sweeps champ and CBS11 has never won at 10 p.m. Just three weeknights remain before November's festivities end on the night before Thanksgiving.
Locked in a virtual tie, each station is looking for any edge it can get. But WFAA8 has a sledgehammer in waiting on Tuesday night, when ABC's two-hour
Dancing with the Stars
finale leads directly into its late night newscast.
CBS11's lead story Friday piggybacked onto a story that WFAA8 broke earlier this year. Reporter
Jack Fink
had the still inconclusive findings of an independent city investigation into alleged rampant sexual harrassment within Dallas Fire Rescue. The principal accuser is Leanne Siri Edwards, previously the highest-ranking civilian woman in the department. WFAA8 was the first local TV station to publicize her allegations.
"A warning now. Some are very graphic," Fink said of some of the report's findings.
WFAA8 anchor
Gloria Campos
primed the pump a little harder in a news tease about "the chief, an affair and racy video."
Chief Eddie Burns has acknowledged sending a cell phone video of himself shirtless to a non-city employee with whom he was having an extramarital affair. That's not a violation of department policy because the woman didn't work for him. Nor is it exactly "racy video."
To its credit, CBS11 managed to get Chief Burns on camera after a public speaking engagement. He deferred comment, but was pleasant and said that the overall results of the investigation looked "positive." WFAA8 reporter
Jason Whitely
did not get any remarks from the chief.
CBS11 later resorted to brief footage of former Dirk Nowitzki girlfriend Christa Taylor whining and crying to
Inside Edition
, which the station airs at 4:30 p.m. weekdays. She again said she wasn't a "golddigger." The non-story got a big tease anyway.
Decidedly more news worthy was
Jay Gormley's second report on "another charity interrupted" by police, who stopped motorcycle clubs from distributing boxes of chicken to the homeless. The clubs lacked a city permit and running water, said Gormley, noting that police say they have no choice but to enforce the law.

Anchor Doug Dunbar later had an affecting report on therapy horses who are being used successfully to treat troubled kids. He did basically the same story earlier in the month, but it's tough to quibble with that. CBS11 is planning a half-hour Christmas special on the treatments at Rocky Top Therapy Center.

The station also wound up its week-long "Social Experiment" series with Ginger Allen's look at a young single woman who is getting around town without a car. Not exactly earthshaking stuff, but moderately interesting.

WFAA8 led its 10 p.m. proceedings with Brett Shipp's report on unacceptably high uranium levels in Hudson Oaks' drinking water. The small city responded on its web site with a declaration that "Hudson Oaks Water is Safe to Drink" and that reports to the contrary are "misleading and unnecessarily frightening residents."

A city spokesman twice told Shipp on camera, "When we were notified, we took the well off line." Shipp accused him of not answering his question on whether he personally would have been worried about drinking possibly contaminated water.

Two other WFAA8 stories hit closer to home -- and to the heart. Gary Reaves had an interesting look at an increase in storage shed auctions being held after renters fell delinquent on their payments. Buyers get only a quick peek at the possessions inside before having to make their bids.

"Trash or treasure, they have to take it all," Reaves noted. "And leave the storage space clean."

WFAA8's David Schechter also looked at the ramifications of a continued tough economy. He focused on a middle-aged woman recently evicted from her home. She had lived alone since her husband died four years ago, but no longer could make the payments. Her possessions were taken from the home and dumped in the adjoining yard, where they sat rain-soaked in the mud while the woman wept and her daughter tried to help.

Those are the kinds of TV pictures that stick with you. Here is Schechter's story.