Idol: Two from North Texas on tepid Top 12 sing-off
03/17/10 08:28 AM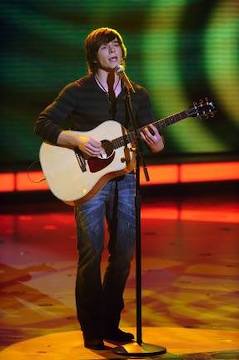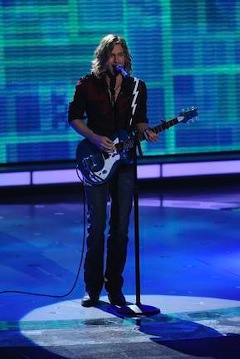 Tim Urban and Casey James perform Tuesday night. Fox photos
By ED BARK
It was Bing Crosby night on
American Idol
Tuesday.
Actually, the Top 12 finalists all had to do Rolling Stones songs, but few put any rock or sock in 'em.
Duncanville's Tim Urban, one of two remaining North Texans, made the preposterous choice of singing "Under My Thumb" to a reggae beat. Thumbs down.
Here's our weekly judges' blow-by-blow, with excerpts from the night's comments preceding Uncle Barky's play-offs.
CASEY JAMES, 27, FORT WORTH
Song: "It's All Over Now"Randy Jackson
-- "You're back to the Casey that I love. I loved it! You are back for me."
Ellen DeGeneres
-- "Most women, their hearts are gonna start racing just lookin' at ya. But then for people like me -- blondes -- I thought it was fantastic."
Kara DioGuardi
-- "Tonight you were a rock star. This shows your soul and the fact that you can riff and go off, and the best parts of your voice."
Simon Cowell
-- "For me that was like an audition performance. When you watch this back, it's got to be more. Just be a star."
Uncle Barky
-- "You at least brought some electricity -- along with your electric guitar. Most of the other performers seemed to think they were singing stuff from The Carpenters. Your rendition had both an edge and a big finish. And you went against type by
not
going country with 'Wild Horses.' It looks more and more like you're destined for the Final Four."
TIM URBAN, 20, DUNCANVILLE
Song: "Under My Thumb"Randy
-- "I didn't get that, dude. It was very bizarre."
Ellen
-- "I felt like I was at a resort and drinking a pina colada . . . There was nothing wrong with it. It just didn't wow me."
Kara
-- "I totally get what the guys are saying. The other side is I gotta applaud you for doing something so incredibly different with the song."
Simon
-- "I have to applaud you for doing something different . . . Having said that, it didn't work. And actually a lot of people who are Rolling Stones fans would be turning their television sets off at that point. So I think it was a crazy decision."
Uncle Barky
-- "Going reggae with 'Under My Thumb' was like doing 'Back in the USSR' to a calypso beat. Very bad move, and this time your pretty boy Zac Efron looks might not be enough to again save the day. I still think you might surprise people and get to the Top 10. But this could be your knockout punch. And if so, you left yourself wide open for it."
Also of note:
Amarillo's resilient, likable preacher's daughter, 24-year-old Lacey Brown, did a decent job with "Ruby Tuesday," even if it was typical of the night's inclination to mush up the Stones' playlist. She might go a bit farther than initially anticipated, but still won't get anywhere near the promised land.