CW33 hires new meteorologist, ramps up for early morning show on two levels
08/31/11 01:43 PM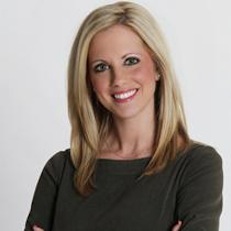 New CW33 staffer Laura ThomasBy ED BARK
Dallas-based, Tribune-owned CW33 has imported another new staffer from Lubbock's Fox34 (KJTV-TV) while also learning that its studios will be the hub for a revamped early morning show that's transferring its entire production from Chicago.
The newcomer is Laura Thomas, a Texas Tech University grad who spent five years at the station as its chief meteorologist.
"I'm excited. Bittersweet, though," Thomas tweeted Tuesday. "Lubbock has been home to me since 2000!"
Earlier this year, CW33
hired Chase Williams
from KJTV. He's now the station's lead sports anchor.
Thomas' initial primary duties at CW33 will be weather cut-ins on the station's new early morning initiative, news director David Duitch said Wednesday. The station learned Tuesday that it also will be the site of a Tribune-produced early morning show tentatively scheduled to launch on Oct. 31st.
Titled
Eye Opener
, the program had been produced out of Tribune's Chicago studios. But the entire show now will originate from Dallas, with CW33 and Tribune-owned stations in Philadelphia, Miami, Houston and Portland, Oregon carrying it as well as providing their own localized three-minute segments.
On CW33, two other recent hires, Toni Duclottni and Tommy Noel, respectively will be doing the traffic and news cut-ins during three-minute segments on
Eye Opener
, Duitch said.
The show
raised some eyebrows
when it initially was launched on Houston's KIAH-TV in May of this year. The entire program was produced out of Chicago, with KIAH vice president and general manager Roger Bare describing
Eye Opener
as "provocative and unpredictable" in an official announcement. "We want viewers tuning in to get a quick dose of the news they need, and to come back because they saw something new that they didn't expect," he said.
The show's regular contributors included a well-muscled handyman dubbed "Wrench," former
Blind Date
host Roger Lodge and a pair of women providing parenting tips in the "Mommy Minute."
Eye Opener
also offered viewers a segment on celebrity tweets from a character called Monsignor Jebediah O'Flaherty.
Duitch said he's confident that some of these contributors won't be a part of the new
Eye Opener
. But he emphasized that "I don't know what talent that's on the show is going to be moving here . . . This is really a work in progress. It just happened yesterday."
Incumbent CW33 staffers are pumped. "They are moving everything here -- people, equipment, you name it. We are very excited," chief meteorologist Rebecca Miller said.
Based on the
personnel pictured on CW33's website
, the hiring of Thomas bumps the number of on-camera "News Team" members up to 20. All but two of them are full-time staffers, Duitch said. "Tech Zen" Shama Kabani is a freelancer and Ashley Roberts works part-time as the host of the station's
DFW Close Up
, he said.
The total of 20 on-camera staffers is starting to compare pretty favorably to D-FW's four major TV news providers. Based on their website news team pages, NBC5 has 24 anchors and reporters, three of whom are listed as "video journalists" who also edit and shoot their stories.
Fox4 pictures 30 staffers on its website, CBS11 has 31 and WFAA8 has 32.
The NBC5 total does not include reporter Kim Fischer, whose last day is Friday. And the WFAA8 total does not include Gary Reaves, who left the station in July, and Walt Zwirko, who is the station's longtime senior website editor but does not appear on camera during newscasts. Both are still pictured as part of the news team.