Local Nielsen ratings snapshot (Fri.-Sun., Jan. 22-24) -- high profile weekend with NFL conference championships, Conan finale, Haiti telethon
01/25/10 10:48 AM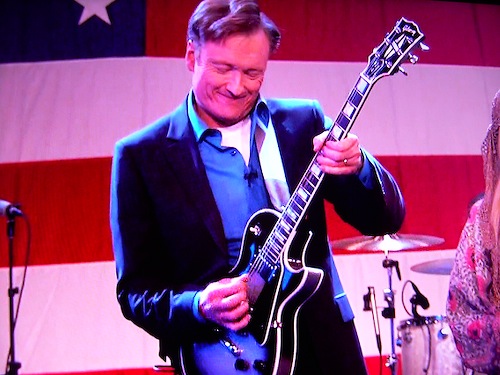 Conan O'Brien played himself off Friday with ample help from Will Ferrell, Beck, Ben Harper, ZZ Top's Billy Gibbons and his Tonight Show band. The song, appropriately, was "Freebird." Photo: Ed Bark
By ED BARK
Sunday night's Saints-Vikings overtime spine-tingler dominated D-FW television screens, amassing an average of 1,574,422 viewers on Fox.
The 31-28 Saints win, which came on a 40-yard field goal at 9:19 p.m., outdrew the majority of this season's Cowboys games. Including the two post-season contests, it would have ranked sixth on a list of 18 games, ahead of the Oct. 4th Dallas loss at Denver (1,472,627 viewers) and behind the Nov. 8th win at Philadelphia (1,649,071 viewers).
Sunday's earlier game, in which the Colts beat the Jets on CBS, averaged a very nice-sized 1,058,663 viewers. That was barely behind the least-watched Cowboys game of the season, Sept. 13th's opener at Tampa Bay (1,065,449 viewers).
On Friday night, Conan O'Brien's final
Tonight Show
on NBC easily was the day's most-watched program on a single network. It drew 291,811 viewers, with a robust 176,126 of them in the advertiser-coveted 18-to-49 age range.
The night's preceding 7 to 9 p.m. telethon on behalf of earthquake victims in Haiti was telecast on an unprecedented array of broadcast and cable networks. Of the networks for which we have D-FW ratings, here's how it broke down in the total viewer Nielsens:
NBC
-- 88,222
ABC
-- 81,436
Fox
-- 61,077
CBS
-- 47,504
The CW, CNN, TNT and HBO
-- 13,573 each
PBS
-- 2,035
In Friday's local news derby results, NBC5's 10 p.m. news found it helpful to serve as the warmup act for O'Brien's
Tonight
finale. The Peacock swept the competitions in both total viewers and 25-to-54-year-olds, the main advertiser target audience for news programming.
Fox4 nipped NBC5 at 6 a.m. in total viewers, but the order was reversed among 25-to-54-year-olds. WFAA8 had a nice time at 5 and 6 p.m., running the table at both hours.