In performance: Craig Ferguson at the Granada
10/29/06 02:21 PM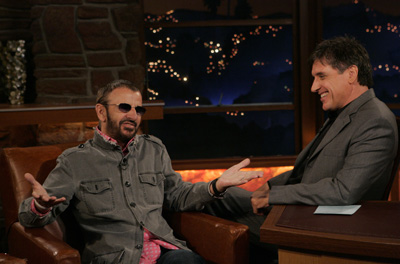 Craig Ferguson had a Brit night of his own with Ringo Starr.
By ED BARK
Craig Ferguson gave up his desk job Friday night, stopping in Dallas to be a standup guy both onstage and for charity.
The Scottish host of CBS'
Late Late Show
found himself a bit at odds with the British-themed "Community a Go-Go" event at the Granada Theater. The stage was back-dropped with three big Union Jacks, prompting Ferguson to ad lib, "When I see a flag like this, I think I'm in court."
Wearing faded jeans, white sneakers and a hang-out black tee, Ferguson held court for 55 minutes on behalf of Community Partners of Dallas, which aids abused and neglected children. His TV show also got into the act. A VIP package that includes a backstage tour of
Late Late Show
fetched the night's top bid of $2,600 at a concluding live auction. In comparison, a "celebrity mountain bike" autographed by Jessica Simpson, Tommy Lee and Pamela Anderson had a tough road to just $700.
Ferguson, who mostly eschews cue cards during his TV monologues, resorted to well-practiced material at the Granada. Still, he threw himself into it, winning the crowd over with his exuberance as much as his jokes. He gabbed about his youthful years in Glasgow ("a medieval
Starsky & Hutch
"), his "odd" mother, his own rehabbing from drug and alcohol abuse, Tom Cruise ("the apex of success and crazy") and most notably, fellow Scotsman Sean Connery.
"He's a walking cadaver!" Ferguson said of Connery, 76. But in his view, Connery remains "the sexiest man alive" and the consummate James Bond. No offense to latter day 007 Pierce Brosnan, but he's merely "cute in a sort of Orlando Bloom way. I can do Orlando Bloom, but Sean Connery can do me."
Ferguson, who's been doing
Late Late Show
since January 2005, recalled first visiting America as a 13-year-old during the 1976 Bicentennial. He and his parents came over on a "tramp steamer, which has nothing to do with Paris Hilton."
He vividly remembers America's vibrant colors and gleaming teeth from that year. Plus he got to see Blue Oyster Cult with his cousins at a concert where they "all had to share the same cigarette." This convinced him that one had to do some sort of drug at a rock concert. But when Deep Purple came to Glasgow, he inadvertently knocked himself out with an artificial stimulant that turned out to be chloroform. The moral of that story: "Just say no to chloroform."
But seriously, folks, he's been sober, by his count, for 14 years. And that's even though "you're encouraged to be crazy in L.A."
Ferguson knows where he stands, though. He's just a slug on a TV talk show, a mere mortal who bows to the goddess of the genre.
"Oprah is the world's last superpower," he declares. "I love Oprah. I have to. I'm in show business."