Local Nielsen ratings snapshot (Fri.-Sun., Jan. 30-Feb. 1) -- The Game
02/02/09 11:06 AM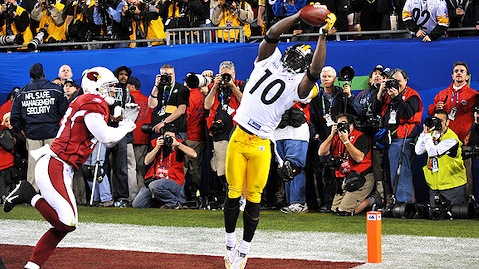 MVP Santonio Holmes makes clinching catch. US Presswire/Matt Cashore
By ED BARK
As usual, nothing else mattered Sunday.
From start (5:32 p.m.) to finish (9:09 p.m.) NBC's telecast of Super Bowl XLIII towered over everything sent against it. The Pittsburgh Steelers' last-ditch 27-23 win over the Arizona Cardinals averaged 2,125,760 D-FW viewers, peaking at 2,431,338 in the closing minutes.
Interestingly, though, D-FW's 44.2 Nielsen rating in the old-line total households measurement wasn't quite high enough to rank in the top 25 TV markets, according to preliminary national ratings from NBC. It did beat the preliminary 42.1 national average, though. In D-FW, each rating point equals 24,900 households.
Pittsburgh not surprisingly had the highest household rating, 53.6. But Phoenix ranked just ninth, with a 47.5 rating. Tampa, which hosted the game, placed sixth in these preliminary "overnights" with a 49.2.
Back in D-FW, NBC's post-Super Bowl offering, a one-hour episode of
The Office
, held on to 504,868 total viewers from 9:40 to 10:40 p.m. NBC's Super Bowl post-game show had 1,282,099 viewers in D-FW.
The most-watched program directly opposite the Super Bowl, an 8 p.m. repeat of CBS'
The Unit
, managed 93,002 viewers.
On Saturday, a new episode of NBC's
Saturday Night Live
, with Steve Martin hosting for the 15th time, drew 166,075 viewers.
Fox4 and WFAA8 dominated Friday's local news derby.
WFAA8 as usual swept the 10 p.m. newscast competitions in total viewers and 25-to-54-year-olds, the key advertiser target audience for news programming.
Fox4 ran the table at both 6 a.m. and 5 p.m. while also topping the 6 p.m. field among 25-to-54-year-olds. WFAA8 had the 6 p.m. gold in total viewers.