No more James gang at Fox4 news
12/20/09 01:31 PM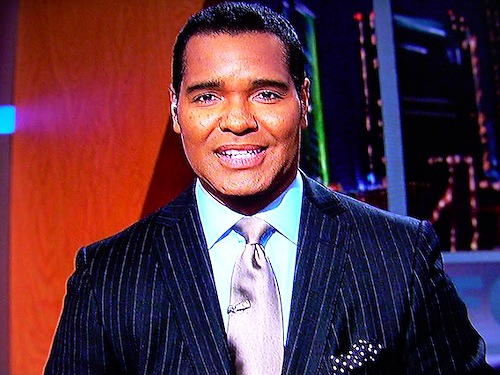 Baron James says goodbye on Friday's 10 p.m. news. Photo: Ed Bark
By ED BARK
Fox4 anchor Baron James, his contract not renewed, has left the station a month earlier than previously planned.
James, who had been with the Dallas-based station for a decade, said his final goodbyes on Friday's 10 p.m. newscast. His last day initially was set for Jan. 17th, according to a station spokesperson who
confirmed James' departure
late last month.
James opted for a spiritual farewell while seated among co-anchor Clarice Tinsley, meteorologist Dan Henry and sportscaster Max Morgan.
"There's a time for everything, and now it's time for the next chapter of my life," James said. "And I always say, 'God's got a plan.' And there's no question this is the beginning of something divine. Thank you, again, and may God be with everybody."
James, who came to Fox4 from ABC station WTAE-TV in Pittsburgh, earlier made reference to his oft-flashy on-air wardrobe.
"I can't thank you enough for being a part of my journey, allowing me into your homes, for the support you've given me over the last decade," he said. "Even all the jokes you've cracked about my suits and my shirts and my ties. I take with me only the best -- all things positive."
James co-anchored Fox4's 5 and 10 p.m. newscasts with Tinsley. The station has not said whether it will pair Tinsley with another in-house staffer or let her go solo.