This just in: A night in the lives of D-FW's late night newscasts (Fri., May 11)
05/14/07 11:25 AM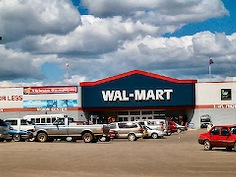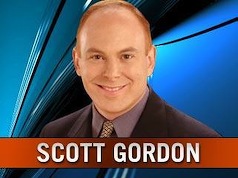 By ED BARK
Attention would-be Wal-Mart shoppers. Little good can come of going there. Or at least that's the not-so-subliminal message from NBC5.
The Peacock's favorite crime scene got another workout on Friday's 10 p.m. newscast, with night ranger
Scott Gordon
bringing viewers "Only on 5" news of a "creepy encounter" (anchor
Jane McGarry's
tease) inside a Midlothian Wal-Mart.
The mother of a six-year-old, her back to the camera, told a concerned looking Gordon that a man had been "peeking from behind some boxes" while she innocently shopped.
"He then jumped out and shocked me," she said. The man fled from the store before she could catch him. Was he intent on abducting her child? She thought so.
On the previous night's NBC5 10 p.m. newscast, the station reported the beating of a Wal-Mart manager by a robber. Anchor
Mike Snyder
later rubbed it in, telling viewers that retail sales were down during the latest reporting period, with Wal-Mart especially hurt.
Rewind to the Peacock's May 7th late night news, with Gordon again in the saddle. This time he brought news of a police sting that led to the killing of an alleged kidnapper in a Wal-Mart parking lot. The chain's familiar, big-lettered sign glowed in the nighttime dark during the live portions of Gordon's report.
Later in that same newscast, viewers were told of an Alabama Wal-Mart that got tough with a filcher. Rather than a 60-day jail sentence, the man wore a sign at the store's entrance. "I am a thief. I stole from Wal-Mart," it said.
NBC5's May 1st 10 p.m. show began with Mistress of the Dark
Susan Risdon's
dispatch from a Dallas Wal-Mart, where a woman received a "disgusting shock," said Snyder.
Yeah, it wasn't very hospitable when a half-naked man stopped his truck next to a woman in the parking lot. He still had his pants down when police arrested him. "Just relieving anxiety," he reportedly told the cops.
Most of these "stories" weren't reported on rival late night newscasts. But NBC5 apparently will leave no Wal-Mart crime untouched. It's the dark side of "product placement" advertising, with Target and K Mart no doubt glad to be excluded. Nothing bad ever seems to happen in their stores or parking lots. But Wal-Mart apparently keeps the police scanners humming -- or at least that's the way NBC5's viewers see it.
Elsewhere Friday night, CBS11 began by reeling off nine consecutive crime and/or tragedy reports. After a brief respite, it then spent an undue amount of time on an outbreak of fires on Catalina Island.
Reporter Christina Penza, who's not on the CBS11 staff, went on and on from her post in Long Beach. Charitably speaking, her face seemed to be decomposing as she spoke.
After that came a roundup of other fires and flooding, pictures of a small plane collision in Cincinnati and "Video of the Day" footage of a brawl in a Jackson, Miss. courtroom. And how was your day?
Fox4 in contrast offered an extended investigative report from
Paul Adrian
, who looked at the legalities of an eyesore dumping site near the Dallas/Collin County Line.
The station's whispering
Jeff Crilley
also had an interesting piece on the Texas Rangers' major league effort to block construction of a small minor league baseball park in nearby Grand Prairie. But voters approved funding in Saturday's election, meaning the Rangers struck out again.
Fox4's weekly "Viewers' Voice" segment had extensive pro-con reaction to
Rebecca Aguilar's
report on the fatal police shooting of a suspected drunk driver in Kilgore. Did police videotape of the incident show the man seemingly reaching for a gun when an arresting officer pulled his own trigger?
Anchor
Steve Eagar
said the station received hundreds of responses from viewers, with reactions split 50-50.
On Belo8, reporter
Jim Douglas
led the 10 p.m. newscast for the second straight night. This time seemed to be much ado about little, though. An elderly Tarrant County man is objecting to post office demands that he raise his roadside mail box in the interest of safe mail delivery. Non-compliance has resulted in no mail delivery of late. Other customers haven't been similarly penalized, he says.
Solution: just raise the thing a couple of feet and stop griping.
The station's
Craig Civale
had a better report on flood-induced waste buildups on the shores of Lake Ray Hubbard. He had a good word description, too: "Looks like a dumpster threw up in his backyard," he said of one lakeside home owner's dilemma.
Reporter
David Schechter
also went wet with an intriguing story on whether salt water filtration systems for backyard pools in fact are having a corrosive effect on operating equipment.
Anchor
Gloria Campos
then said she had found a frog in her hot tub. That signaled a start to the nightly laugh-around, with weatherman
Pete Delkus
again jabbing at sports anchor
Dale Hansen
-- and vice-versa.
But Campos has fine-tuned her "happy talk" and seems to have downshifted her loud-ish laugh a bit.
All in all it's better to fill 30 or so seconds a night with anchor merriment than take another harrowing trip to a Wal-Mart parking lot.