"Terrified" of losing his job, DPD officer Powell tells CBS11 he's sorry, acted sorrier
03/30/09 10:51 PM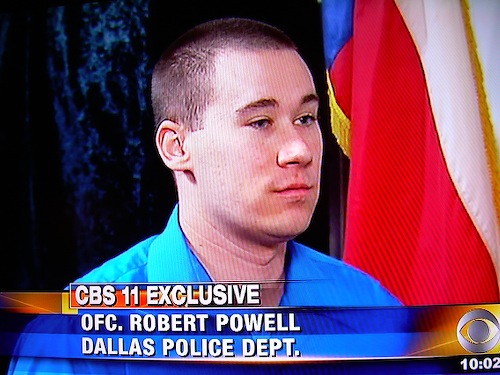 DPD officer Robert Powell on CBS11 Monday night. Photo: Ed Bark
By ED BARK
The bookends are now in place after Monday's first TV appearances -- outside of a police dash cam video -- of the principals in a traffic violation incident that became a virtually non-stop story both nationally and locally.
The day began with Ryan and Tamishia Moats
telling their side on ABC's Good Morning America
. It ended with Dallas police officer Robert Powell
talking exclusively to CBS11
and reporter J.D. Miles on the station's 10 p.m. newscast.
Miles didn't mess around, immediately asking Powell what it felt like to be "a person who has to be the most hated person in Dallas, if not beyond?"
Powell, speaking precisely and remorsefully throughout, said without blinking, "It has been difficult. We're worried about our two young children."
The 25-year-old traffic cop, a three-year veteran of the DPD, is on administrative leave following his actions on the night of March 17th. That's when he stopped the Moatses outside the Baylor Regional Medical Center in Plano after they ran a red light rushing to see Tamishia's mother before she died. Powell in effect told Miles that he blew it by haranguing Ryan Moats and detaining him to the point where his wife's mother died before he could get to her bedside. Sentiment since has run overwhelmingly against Powell in comments to various news organization Web sites.
"When you look at that tape -- and I've seen all 16 minutes of it -- a lot of people see to them a cocky, arrogant young officer who just doesn't get it. Is that a fair assessment?" Miles asked.
"I believe it's pretty fair in this case, because I acted improper," Powell replied.
But is his
mea culpa
merely out of fear he'll lose his job or does it come as the result of "personal reflection?" Miles asked that one bluntly, too. And Powell responded in kind.
"I would say that it is both," he said. "To say that I'm scared of being fired, I would say it's an understatement. I'm terrified. I have a family. I have two young children."
Powell also said he'd like to meet personally with the Moatses if given the opportunity. And the Moatses earlier said that they'd accept his apology because, as Tamishia put it in part, "He's a human being."
"I think back to my family, to my mother, that if I was in
his
(Ryan Moats') situation, that if I want to get to my mother, I'm going to do everything that I can to do it," Powell said.
He should have showed compassion, but for some reason didn't, Powell said. "If I could take it back, I would."
Both Powell and the Moatses obviously want to move on, as do some who say they've grown weary of this story in the time since WFAA8 reporter Rebecca Lopez broke it on Wednesday's 10 p.m. newscast.
Still, both of these interviews were instructive and maybe even cathartic. The Moatses have never sought publicity in this matter, and Powell couldn't have been much more contrite, even if he's now looking only to save his own hide. Whatever your views, at least both sides have been heard.
So the chase should be over for both local and national media. If Powell and the Moatses in fact do meet, let them do so in private. Whatever Powell's superiors decide should be the final, public chapter in a story that otherwise has run its course.