Local Nielsen ratings snapshot (Fri.-Sun., Feb. 28-March 2) -- Ellen-fueled Oscars blasts past recent editions
03/03/14 09:42 AM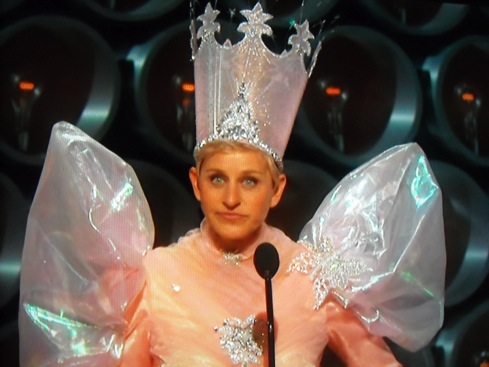 Queen of the Oscars: Host Ellen DeGeneres in a late-breaking costume change during Sunday's ceremony on ABC. Photo: Ed Bark
By ED BARK
@unclebarkycom on Twitter
Sunday night's Academy Awards ceremony on ABC had no big surprises in the major categories and also a proven winner in host Ellen DeGeneres.
Returning to preside after a seven-year gap, she helped spur the Oscars to a significant improvement in the D-FW ratings over last year's outing with Seth MacFarlane. DeGeneres was widely viewed as a comfier, "safer" host than MacFarlane, who took a critical lashing in some quarters for his dicey routines on "boobs" and Jews in Hollywood.
Running from 7:30 to 11 p.m. (plus four minutes worth of closing credits), this year's Oscars averaged 1,164,613 viewers and 547,126 within the advertiser-prized 18-to-49 age range. The MacFarlane-hosted show, which had a virtually identical running time, drew 922,483 viewers with 430,569 in the 18-to-49 motherlode.
The Ellen-hosted Oscars also outdrew the 2012 show with Billy Crystal (respective totals of 1,054,760 and 477,906) and a 2011 edition co-hosted by James Franco and Anne Hathaway (907,267 and 417,906).
The least-watched Oscar ceremony by far is still 2009's with host Hugh Jackman. It drew just 677,589 D-FW viewers with 291,176 in the 18-to-49 demographic.
DeGeneres last hosted in 2007, before unclebarky.com had total viewer numbers available for inspection. But her 571,692 households for that show was easily surpassed by 698,344 for Sunday night's Oscars. It also had appreciably more 18-to-to-49-year-olds than her 2007 outing, which drew 403,160.
Sunday night's biggest Big Four broadcast network draw opposite the Oscars was Fox4's frigid weather-driven 9 p.m. local newscast, which had 269,849 total viewers.
In Friday's prime-time Nielsens, CBS'
Hawaii Five-0
and
Blue Bloods
tied for the most total viewers with 241,444 apiece. ABC's
Shark Tank
as usual dominated among 18-to-49-year-olds.
The return of NBC's
Hannibal
ran a distant fourth at 9 p.m. with a paltry 63,912 total viewers. Just 13,027 of them were in the 18-to-49 demographic, making
Hannibal
Friday night's least-watched Big Four attraction in that key measurement.
Here are Friday's local news derby results:
CBS11 had the most total viewers at 10 p.m. while Fox4 won among 25-to-54-year-olds, the main advertiser target audience for news programming.
Fox4 also swept both the 6 a.m. and 5 p.m. competitions and added a 6 p.m. gold with 25-to-54-year-olds. WFAA8 had the most total viewers at 6 p.m.
Email comments or questions to:
unclebarky@verizon.net