Local Nielsen ratings snapshot (Fri.-Sun. Jan. 21-23) -- Green 'n' Golden and that other team propel Sunday ratings
01/24/11 09:31 AM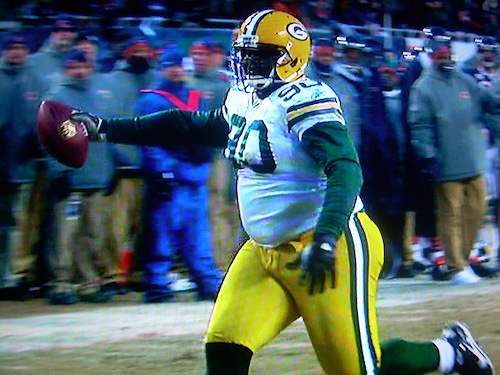 Brat 'n' cheese-fueled B.J. Raji motors toward a key TD. Photo: Ed Bark
By ED BARK
Uncle Barky's native state Green Bay Packers are heading this way after counting out the arch rival Chicago Bears Sunday in their NFC Championship brawl on Fox.
How fitting that the smallest city by far in the NFL will be playing in the league's largest, gaudiest showplace when Super Bowl XLV convenes on Feb. 6th. The entire city proper of Green Bay, with a population of just over 100,000, could easily fit within Jerry's Palace. But a $10 beer price might prove dispiriting. That's the cost of an entire dinner and drinks at Green Bay's finest eatery, Mel's Frozen Tundra Family Restaurant.
The Packers will play the daunting Pittsburgh Steelers, another storied team from a deep freeze city. And on Sunday at least, the Steelers' 24-19 defeat of the hang-tough New York Jets, which aired mostly in prime-time on CBS, outdrew the Packers 21-14 win at Chicago in the afternoon game.
Steelers-Jets, which ran from 5:42 to 8:49 p.m., averaged 1,350,512 D-FW viewers while Packers-Bears (2:05 to 5:15 p.m.) drew 1,253,552. The Packers had the larger peak audience, however, with 1,530,580 watching the final 15 minutes of the game. Steelers-Jets topped out at 1,509,803 between 7 and 7:15 p.m.
A nice-sized swatch of viewers stuck around for CBS' post-AFC championship game attraction, a new episode of
Hawaii Five-0
that began at 9:14 p.m. It pulled in 464,022 viewers to easily crush all competing programming.
Nothing came up big in Friday's festivities, where CBS11's 6:30 p.m. offering of
Wheel of Fortune
was the mosst-watched attraction of day or night with 221,622 viewers.
Over on MSNBC, bombastic Keith Olbermann's
sudden last night
as host of
Countdown
had a piddling 13,851 viewers opposite Fox News Channel's
The O'Reilly Factor
(69,257 viewers).
In Friday's local news derby results, WFAA8 flexed by sweeping the 5, 6 and 10 p.m. competitions in both total viewers and 25-to-54-year-olds, the main advertiser target audience for news programming on most stations.
At 6 a.m., Fox4 and NBC5 tied in total viewers, with Fox4 nipping the Peacock among 25-to-54-year-olds. WFAA8 reversed from by running last in both measurements.