Local Nielsen ratings snapshot (Fri.-Mon., Sept. 2-6) -- TCU, SMU, BSU make for big holiday weekend on ESPN
09/07/10 10:46 AM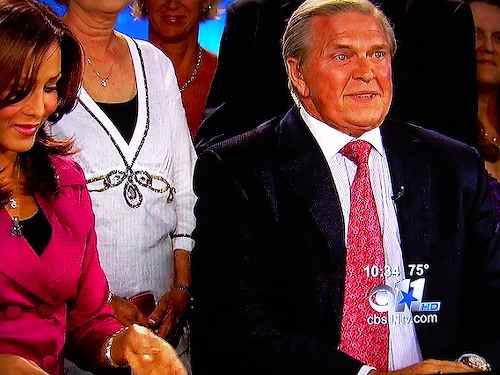 CBS11 meteorologist Mike Burger ended a 40-year broadcasting career on Saturday's 10 p.m. newscast. He spent the last decade at CBS11 and also worked at KDFW-TV in Dallas. "I'll see you on the first tee," Burger said while surrounded by friends in CBS11's Fort Worth studios. At left is news anchor Nerissa Knight. Photo: Ed Bark
By ED BARK
Season-starting games featuring TCU, SMU and No. 3-ranked TCU nemesis, Boise State, put ESPN in the ratings driver seat on Labor Day weekend.
Saturday's prime-time game from Cowboys Stadium, a 30-21 TCU win over Oregon State, averaged 291,811 D-FW viewers in wiping out all competing programming.
SMU's gutty 35-27 Sunday afternoon loss to Texas Tech in sweltering Lubbock drew 142,512 viewers to likewise outpoint all competing programming.
And Boise State's come-from-behind Labor Day night 33-30 win at Virginia Tech rolled up 237,521 viewers in also dominating prime-time.
Meanwhile, the Texas Rangers lost four games in four days, with their lead over second-place Oakland shrinking from 10 to 7 games. This is getting more than a little scary, with the starting pitching imploding while injured star player Josh Hamilton remains indefinitely unavailable. Are the Rangers getting ready to impersonate the 1969 Chicago Cubs being overtaken by the pitching-rich New York Mets? The portents are ominous. And even if Texas rights itself, it's looking like a quick over-and-out post season.
The most-watched Rangers loss was Friday's on TXA21, with 190,016 viewers enduring the defeat in Minnesota. The other three games drew half or less that audience.
The weekend also brought CBS11 meteorologist Mike Burger's heartfelt goodbye at the close of Saturday's 10 p.m. newscast. He's retiring after 40 years in broadcasting. CBS11 drew 156,085 viewers in winning the time slot against competing programming on Fox4, NBC5 and WFAA8. Nice.
Local stations took a knee for their Labor Day local newscasts, opting for "H" for holiday designations that make the results basically moot. That day's closing 5 to 6 p.m. hour of the annual Jerry Lewis Muscular Dystrophy Association telethon drew just 20,359 viewers in losing lopsidedly to a mix of local and national news on Fox4, WFAA8 and CBS11.
In Friday's local news derby, NBC5 won at 10 p.m. in both total viewers and 25-to-54-year-olds, the main advertiser target audience for news programming on most stations. The Peacock also ran the table at 6 a.m.
CBS11 nipped Fox4 for a total viewers win at 6 p.m. But Fox4 took the 25-to-54 gold while adding twin wins at 5 p.m.