Local Nielsen ratings snapshot (Wed., May 4) -- Mavs soar past half mil mark in outpointing everything (including Idol)
05/05/11 03:11 PM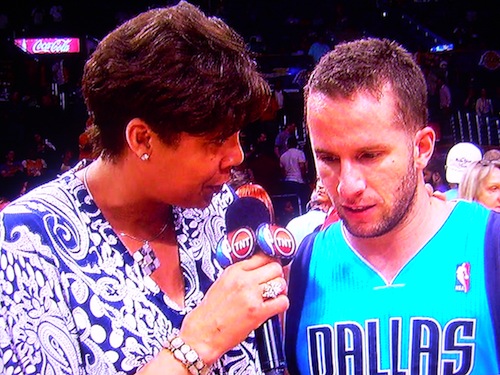 Little big man: J.J. Barea gets some post-midnight love on TNT.
Photo: Ed Bark
By ED BARK
The Dallas Mavericks' late-night spanking of the Lakers Wednesday on TNT easily amassed the biggest D-FW audience of their eight playoff games to date.
Running from 9:47 p.m. to 12:06 a.m, the 93-81 win averaged a whopping 637,164 viewers with a peak crowd of 706,421 between 11:15 and 11:30 p.m.
That bested Fox's
American Idol
performance show, which averaged 560,982 viewers in the 7 to 8:30 p.m. slot.
Mavs-Lakers ruled by a bigger margin with advertiser-coveted 18-to-49-year-olds, averaging a super-imposing 378,419 viewers in this key demographic compared to runner-up
Idol
's 263,248. That's a rout, with the Mavs' TV audience likely to swell past the 750,000 total viewer mark and perhaps even approach 1 million for Friday's earlier-starting Game 3 against the Lakers on ESPN.
That's not great news for the 10 p.m. local newscasts, whose ratings are being shrink-wrapped by competing Mavericks' playoff games in the heart of a May "sweeps" ratings race.
Among non-sports attractions, CBS' twin killing of
Criminal Minds
and
Criminal Minds: Suspect Behavior
won the 8 to 10 p.m. slot in total viewers. Not so with 18-to-49-year-olds, though, where NBC's
Law & Order: SVU
won the 9 p.m. hour while Fox4's local newscast placed second. From 8 to 9 p.m.,
Idol
and ABC's
Modern Family
ran one-two with 18-to-49-year-olds in the first half-hour before the second part of
Criminal Minds
held off ABC's second-place
Cougar Town
.
Fox4 had a big day demographically in Wednesday's local news derby, winning at 6 a.m. and at 5, 6 and 10 p.m. among 25-to-54-year-olds, the main advertiser target audience for news programming on most stations.
CBS11 claimed most of the total viewer spoils with first-place finishes at 5, 6 and 10 p.m. Fox4 took the gold at 6 a.m., with WFAA8's recently re-cast
Daybreak
falling to fourth place in both of the early morning measurements.