Former WFAA-TV stalwart Bert Shipp dies at age 85
04/21/15 09:57 AM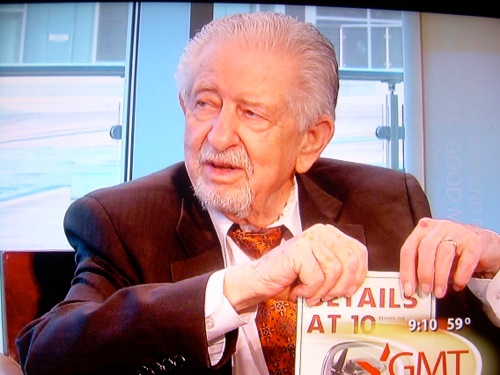 Bert Shipp, being interviewed by son, Brett, in 2011 about his book on the early days of D-FW television news. Photo: Ed Bark
By ED BARK
@unclebarkycom on Twitter
Bert Shipp, who lived through the formative years of D-FW television news and later wrote a freewheeling book on his experiences, has
died at the age of 85
.
The former newspaper man spent most of his highly eventful career at WFAA-TV (Channel 8) after starting at WBAP-TV (now NBC5) in 1959 and spending two years there. Shipp began as a reporter but became best known as WFAA's longtime news director and later assignments editor. His son, investigative reporter Brett Shipp, continues to work at the station and for a time worked for his dad.
When he made the transition, "I didn't know about television. But I knew how to chase those ambulances," Bert said in a mid-1990s interview. "I'd take those ol' boys (Brett and older brother, Bruce) and throw 'em in the back seat, and we'd be off. I never dreamed that something would rub off on him."
Brett, an award-winning reporter for KDFW-TV (Fox4) before he joined forces with his father at WFAA, remembered it being "a candy store for me and my brother to be the sons of a newsman. I can remember nights he would come in the room and say, 'We've got this great fire out in West Dallas. You guys wanna come?' 'Yeah!' we'd say. If there was a good wreck for a good fire going on, we were out the door with him. And it was great."
Bert's book,
Details At 10: Behind the Headlines of Texas Television History
, was published in 2011. Besides his experiences in covering the John F. Kennedy assassination and exclusively interviewing The Beatles, it includes unvarnished passages on news room coverups and the re-arranging of scenes for 10 p.m. newscast consumption. Those were the days -- the early days of filmed coverage and no live shots.
"I took comfort in knowing that I got the pictures even if I had to re-stage the scene a little," Bert wrote. "I'd often had to do that, always to improve a picture story. Why not? After all, it really did happen that way. Mostly."
In 1964, he talked his way into the Beatles' dressing room at the Dallas Convention Center after inadvertently stumbling into it. Bert recalled Ringo Starr greeting him with, "Hey, Tex, what brings you in here?" He later showed Ringo how to properly roll a cigarette.
"Years later, on occasions when I was introduced or given some acclaim, I was never cited for my coverage in Vietnam or Laos or for my work during the assassination, hurricanes or big crime cases," Bert wrote in his book. "No, I was usually introduced as the reporter who slipped into the Beatles' dressing room and spent fifteen minutes in the company of the 'Fab Four,' who loved to hear Texas talk."
Rest in peace, Bert Shipp. You lived a life that most of us can only imagine. Here's a
link to my earlier interview
with father and son, newsman and newsman.
Email comments or questions to:
unclebarky@verizon.net