Day Two: Aguilar vs. Fox
12/08/10 06:14 AM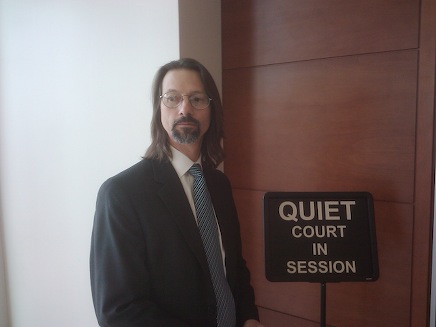 Chris Raesz, co-attorney for Rebecca Aguilar. Executives and attorneys for Fox4 have declined to be photographed. Photo: Ed Bark
By ED BARK
Dallas-based Fox4's long-running leading ladies were center stage Tuesday as attorneys continued to build cases for and against former reporter Rebecca Aguilar on Day Two of her wrongful termination civil suit against the station's parent corporations.
Both were ready for their closeups, but to varying degrees.
General manager Kathy Saunders, who has held that position since 1997, continued to testify haltingly while being pressed by Aguilar's co-attorney, Chris Raesz. She regularly asked him to repeat his questions, but became notably more expansive and expressive in the face of much friendlier questioning from Fox co-attorney Erin Williams. That's more or less typical in any court case, although the contrast seemed particularly striking Tuesday.
Saunders' testimony took up much of the day before news director Maria Barrs took the stand at 3:20 p.m. Barrs, in that position since 1998, seemed appreciably more relaxed and conversational during slow-building but increasingly pointed questioning from Aguilar's outwardly folksy lead attorney, Bill Trantham. Her testimony will resume Wednesday morning in a protracted case that possibly could spill over into next week. A 12-person jury will decide on the merits of the suit.
Barrs depicted Aguilar, who joined Fox4 in early 1994, as a "fierce" reporter who "was very, very competitive. She loved getting a scoop."
Aguilar also became an advocate for more Hispanic managers in the Fox news room, Barrs said. "I think they came from her heart," she said of the newsroom memos Aguilar occasionally wrote and distributed.
"I'm a big believer in diversity," said Barrs, who is Asian-American. She also recalled having several meeting with Aguilar on the subject of improved and more knowledgeable news coverage of D-FW's growing Hispanic community.
But the two sharply and definitively parted ways after Aguilar's much-publicized and controversial interview with a then 70-year-old West Dallas salvage business owner who had shot and killed two alleged burglars within three weeks time in fall 2007.
She said that Aguilar "misled" the station in terms of James Walton's willingness to do an interview outside a sporting goods store after he had purchased another shotgun.
"Our newsroom was getting flooded with angry phone calls because people thought we were bullying a man who had been the victim of a crime," Barrs said.
Barrs, who did not see the story before or when it aired, said she then reviewed the tape and reached roughly the same conclusion. Aguilar was escorted from the news room on the following day, October 16, 2007, and has never returned. On March 5, 2008, the station exercised the option it had not to renew her two-year contract at its midway point. Aguilar received her salary throughout that period as mandated by a standard "pay or play" clause in the contract.
On the day she was escorted from Fox4, Aguilar and her husband (who continues to work at the station in an off-camera newsroom position), tried to see her in her office, Saunders said.
"I refused her husband" because she thought it "inappropriate," Saunders said. "Rebecca came into my office."
Saunders said she only told Aguilar, "I'm very disappointed." She quoted Aguilar as telling her, "I am so sorry. I made a mistake. I have done 3,000 stories."
Fox 4 had reached the point where "basically we could not trust Rebecca anymore," Saunders told Williams. Aguilar had become both an inadequate reporter in addition to being a recurring "poor newsroom room citizen," she said.
The station's investigation of the Walton interview climaxed with a multi-page Nov. 2, 2007 "Last and Final Warning" memo written by Barrs and approved by Saunders and Fox4 attorneys among others. The memo, addressed to Aguilar, was displayed and discussed at length during Williams' earlier questioning of Saunders.
"The tone of the (Walton) report was far too harsh and confrontational," Barrs wrote in one passage. "Your tone, as a general assignment news reporter, should be neutral."
Investigative reporters such as Fox4 veteran Becky Oliver are given more leeway in pursuing interview subjects, the station contends. And their quarry usually are suspected wrongdoers, not crime victims, the station has emphasized during testimony.
"The tactics you used (in interviewing Walton) should have been discussed with management in advance, were inappropriate and demonstrated poor judgment," Barrs wrote.
Her memo also said that Aguilar had violated Fox4 policy by doing a post-suspension
interview with unclebarky.com
in which she was "quoted extensively discussing the newsgathering process. As an experienced journalist you are well aware that we routinely fight all efforts to inquire into our newsgathering process."
The memo additionally noted that Aguilar had received two earlier warnings about the quality of her reporting, on Feb. 28, 2007 and on Sept. 27, 2007.
Attorney Williams opened her first segment with Saunders by again showing jurors raw footage of the Aguilar-Walton parking lot meeting.
By her count, Walton had asked nine times not to have his face shown on camera, Williams said.
The tape shows that Walton was alternately cantankerous and accommodating while making no effort to drive away while seated in his car. Aguilar stood between Walton and driver's side door while talking to him. But when he started up his engine, she said, "All right, I'll leave you alone," and stepped aside. In the raw footage, a Fox4 cameraman caught a fleeting glimpse of Walton through the windshield as he began to drive off.
Walton had said earlier in no uncertain terms, "Don't be takin' my Goddamn picture!" At that point Aguilar asked the cameraman to step away but persisted in trying to get Walton to open up.
"I'm surprised that you come out here and buttonhole me," he told her.
"I'm not here to get a scoop," Aguilar replied. "I'm here to get your side of the story."
Aguilar later asked Walton, "So John can't join us?" in reference to her cameraman.
"No, I don't want John to join us," he said. Again the cameraman pulled back, but Aguilar continued to converse with Walton. The camera remained in play, mostly capturing Aguilar standing next to Walton's car. In her testimony, Barrs said it's a basic rule of thumb to "keep the camera rolling" when out on a story. It's not a hard-and-fast edict without any exceptions, but "if you want to call it policy, yes. OK," she told attorney Trantham.
Two other Fox4 reporters, James Rose and Steve Noviello, came into play during attorney Raesz's questioning of Saunders.
In a November 2009
"97 tickets in 90 minutes" story
during one of Rose's "Street Squad" segments, he reported on multiple motorists who regularly were making illegal left hand turns to avoid an oft -crowded overhead bypass in Lewisville.
Three violators agreeably talked to Rose on camera, but one woman wanted nothing to do with him after he asked her, "What's your reaction to the cops crackin' down?"
"No, no, I don't want to be on TV," the woman told him. "That's fine. People are breaking the law. But I don't want to be on TV."
"Why did you do it?" Rose persisted.
"I don't want to be on TV. Thank you," the woman said before driving off. She was on TV anyway, as jurors saw in the story as it aired on Fox4.
Before jurors saw the video, Saunders said initially said she was not familiar with the story, which also was posted on the station's website. After seeing it, Saunders said she remembered it.
"Was Mr. Rose reprimanded for that conduct?" Raesz asked.
"No," Saunders answered.
Noviello, Fox4's lead consumer reporter, had a
lengthy February 2010 piece
on the now defunct Red Cat Consignment Boutique, whose husband and wife owners allegedly had closed shop and absconded with customers' goods.
One of the owners, Steve Hall, repeatedly told Noviello that he didn't want to be on camera.
"I'm not going to answer your questions," he said at one point before putting his hand on a Fox4 camera lens. "Hey, take the camera off me, man."
A followup story in which Noviello interviewed Hall's wife, Marukh, replayed the footage of her protesting husband, whose face again was clearly shown.
"Was Mr. Noviello, a white male reporter, reprimanded for his conduct?" Raesz asked Saunders.
"No," she said. But Noviello's story "most certainly went through our attorneys," Saunders later said.
(It should be noted that unclebarky.com reviewed both of these stories, criticizing Rose for putting the unidentified woman on camera against her wishes, but praising Noviello for his persistence in tracking down and exposing the seemingly negligent Red Cat owners.)
Three other Fox4 employees who had a part in Aguilar's Walton interview were later briefly suspended by the station, but remain Fox4 employees.
Saunders said she was not involved in the reprimands but did approve them in her capacity as general manager.
"It appears she (Aguilar) was singled out . . . You understand how people can feel that way?" Raesz asked.
"Yes," Saunders said.
Defense attorneys also displayed a series of Christmas cards that the Aguilar family had sent to Saunders. All except the last one, sent after her suspension, included flattering personal messages from Rebecca Aguilar. The Christmas 2005 card praised Saunders for being "an approachable boss. John (Aguilar's husband) and I admire you a great deal."
During questioning from Williams, Saunder also said that the station currently has about a 15 percent Hispanic work force on a staff of roughly 200 employees. In 2007, before "downsizing" hit local TV stations around the country, the percentage was about 13 percent on a staff of about 250, she said.
Testimony continues Wednesday in the $2 million case, with Aguilar possibly testifying sometime in the afternoon.