WFAA8's McCaa staying in place while other D-FW long-timers change courses
08/22/12 03:51 PM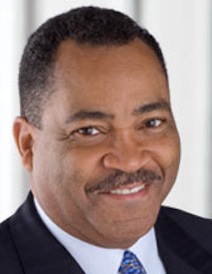 By ED BARK
@unclebarkycom
At least John McCaa isn't going anywhere anytime soon.
This week's news of NBC5 meteorologist
David Finfrock leaving the station's 10 p.m. newscasts
while slowly marching toward a planned 2018 retirement came shortly after WFAA8 anchor
Gloria Campos became a part-timer
by giving up her regular 6 p.m. berth.
But McCaa confirmed Wednesday that he's staying the course at WFAA8.
"I have come to an agreement to continue what I am currently doing full-time -- 5, 6 and 10 p.m. news," he said in an email reply. "Still working out specifics."
McCaa has been part of the ABC station's showcase 10 p.m. newscast since October, 1993, when a rotating tri-anchor system went into effect. In August of 2002, McCaa and Campos became the sole 10 p.m. news anchors. They currently are D-FW's only minority anchor duo during evening or nighttime hours. (NBC5 newcomer Mark Hayes and Deborah Ferguson give that station an African-American/Hispanic anchor team on weekday early morning newscasts.)
McCaa, who joined WFAA8 in 1984 (the same year as Campos), didn't specify the length of his latest contract. But they generally run for three-year periods. The station's president and general manager, Mike Devlin, continues to have a standing "no comment" policy regarding any inquiries from unclebarky.com. And his recently hired news director, Carolyn Mungo, has yet to return an email on any subject, even to comment on the end of Campos' 6 p.m. tenure and what she has meant to the station as D-FW's first Hispanic weekday news anchor.
After some time off, Campos is scheduled to rejoin McCaa at 10 p.m. on Tuesday, Sept. 4th. But that will be her only newscast of the day, save for occasional fill-ins at 6 p.m., where Shelly Slater now is teaming with McCaa.
McCaa's rise to prominence at WFAA8 began in December 1991, when he began co-anchoring the Dallas-based station's 5 p.m. weekday newscasts. He later dropped the 5 p.m. shift while moving up to the 6 and 10 p.m. editions. But he's been co-anchoring all three newscasts in recent years, with his new deal keeping McCaa busier than any other anchor at the station as he approaches his 60th birthday in February of 2014.
Dale Hansen, dean of D-FW's sports anchors, also is continuing apace at WFAA8
after taking a substantial pay cut
. A salary "adjustment" downward almost certainly is in the cards for McCaa, too.
Both of NBC5's "legacy" news anchors, Mike Snyder and Jane McGarry, are no longer with the Fort Worth-based station.
Snyder was downsized
out of the picture on July 1, 2010 after earlier being pulled from the 10 p.m. edition. McGarry (who likewise had seen her role diminished)
"resigned" last month from NBC5
after pleading "No Contest" to a heavily publicized DWI charge.
Fox4 anchor Clarice Tinsley remains the dean of all D-FW news personalities and has said in the past that she's more than willing to anchor into her 70s. Tinsley, who joined the station in November 1978, continues to anchor the 5 and 10 p.m. weekday newscasts. She's been soloing at both hours after
Fox4 parted ways with anchor Baron James
in early 2010.
Until that time, Tinsley and James were D-FW's only African-American anchor team. He
now is with WPLG-TV
in Miami.