Let's play oddball -- and then longball. Rangers whack Yanks again in oft-wacky game
10/20/10 08:01 AM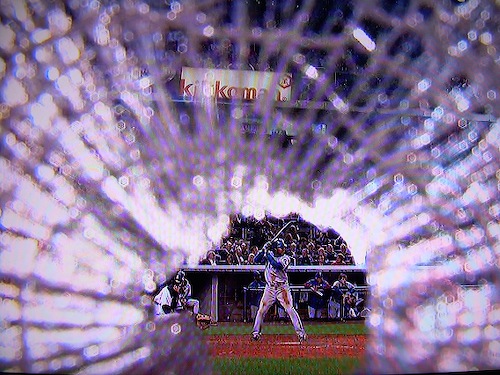 A smashed TBS camera lens nicely frames Elvis Andrus. Photos: Ed Bark
By ED BARK
A wildly weird game broke out in the early innings. Then things settled nicely into a repeat of the "Yankee faithful" bailing out as the Texas Rangers piled up late inning runs in a 10-3 romp.
Man, how enjoyable is this? Two consecutive blowouts of baseball's proudest, haughtiest franchise on their home field. The Rangers now take an imposing 3-1 ALCS lead into Wednesday afternoon's possible close-out.
But as TBS play-by-play dude Ernie Johnson noted, the Yankees last trailed by that margin in the 1958 World Series against the Milwaukee Braves. His dad, Ernie Sr., was a pitcher on that Dairyland team, which then lost three straight to New York. Formative Barky remembers well. He was a Wisconsin grade schooler that year, sneaking a transistor radio plug into his ear to hear the unfolding horror story during fifth grade class. Believe it or not, the World Series games were played in daylight back then.
So let's not let the Yankees get off the canvas and stagger back to Arlington for Game 6. As TBS commentators also pointed out, the Yankees can't wait to face Rangers ace Cliff Lee again. Because that's the only way they can get to a Game 7.
Tuesday's Game 4 initially seemed as though it was being played on Halloween night. First came Robinson Cano's fan-aided home run, with Nelson Cruz's his glove arm engulfed by fans as he reached above the outfield wall. But that's what the home team fans are supposed to do. So credit them with a nice assist.
Then came Lance Berkman's homer that was -- and wasn't. After his home run trot, replays showed that the ball had barely hooked to the right of the foul pole by perhaps the width of an onion skin. So the umps rightly waived it off and kept the Yankees' lead at 1-0 instead of 2-0. Berkman then struck out.
Brett Gardner's flying broken bat also spooked things up. It headed down the right field field line for a direct hit on a TBS camera lens. What are the odds? A trillion to one?
The top of the fifth inning then brought a potential
"Bartman moment"
when the Rangers' Josh Hamilton hit a two-out foul ball down the left field line with runners at first and second and the Rangers trailing 3-2. A pudgy Yankees fan reached out and denied Gardner a chance to catch the ball. But Hamilton then flied weakly to centerfield to end the inning. "Steve Bartman's place in history is safe," Johnson deadpanned.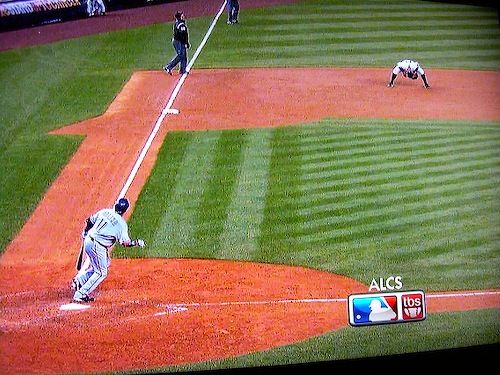 Yankees third baseman Alex Rodriguez deflates as Bengie Molina begins his home run trot. The two-out, three-run shot stun-gunned the home team and gave Texas a 5-3 lead in the 6th inning.
Bengie Molina's place in history also will be cemented if the Rangers go on to bounce out the Yankees. His super-clutch three-run homer with two outs in the 6th ranks as the biggest hit in Rangers history. For the moment at least. And TBS perfectly captured the moment by later showing Yankee third baseman and former Ranger Alex Rodriguez almost revert to the fetal position as Molina watched the ball sail into the left field seats.
The only Ranger not ready for prime-time was starting pitcher Tommy Hunter. Flushed and clammy, he looked like a balloon ready to burst while the Yankees kept popping corks. Should the Rangers get to the World Series, it seems clear that Derek Holland should replace him as the fourth starter. On Tuesday night Holland again was superb in relief, keeping the Yankees at bay until the Ranger home run bats came into play. All told they had four, with Josh Hamilton hitting two more and Nelson Cruz then piling it on with a two-run homer in the ninth.
The eighth inning could well have been a disaster, though. Leading 7-3, Ranger relievers loaded the bases on walks with one out before Pantsgate came into play. Did reliever Darren Oliver barely nick Nick Swisher's pinstripes with a pitch? Replays seemed to show he did. But Swisher didn't try to "sell" anything and there were no arguments from the Yankees. Swisher then flew out to shallow centerfield before third baseman Michael Young made a terrific stab of a smokin' hot grounder hit by the star-crossed Berkman. Inning over, crowd filing out, Rangers relaxed and jubilant.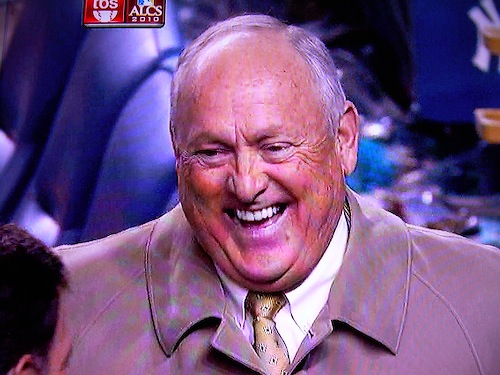 Has Rangers president Nolan Ryan ever smiled bigger? I think not.
Let's end by complimenting TBS' see-all camera work, even through a shattered lens at times. Tuesday's game had a number of game-turning plays, and the network caught them all from a wide variety of angles.
The TBS announcing team -- Johnson and former pitchers John Smoltz and Ron Darling -- also is starting to grow on me. The latter two obviously know a lot about what pitchers go through. And their insights mesh nicely with Johnson's occasionally glib play-by-play.
That said, let's say goodbye to the TBS telecasts after Wednesday's game. There's no time like the present for the Rangers to seal the deal. The Yankees have their ace at hand -- C.C. Sabathia. But C.J. Wilson is no Tommy Hunter. He threw a lights out Game 1 before being betrayed by the bullpen. And with the Yankees' Mark Teixeira likely out for the season with a hamstring injury, he'll be facing one less potent bat.
No one does this to the Yankees, of course. But the Rangers are doing it. One more time and the impossible dream is a reality. A World Series in Arlington would be a previously unimaginable magic carpet ride. Let's see if this team can take Nolan Ryan even higher.