This just in: A night in the lives of D-FW's late night newscasts (Tues., May 15)
05/16/07 01:16 PM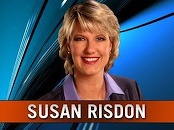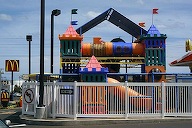 By ED BARK
The battle lines are clearly drawn, seldom more starkly than on Tuesday's 10 p.m. newscasts.
On a so-called "busy night of breaking news," NBC5 reeled off 11 crime or tragedy stories before the first commercial break.
D-FW's new Peacock copycat, CBS11, pounded out nine crime or tragedy stories before its first pause in the action.
Belo8 went without
any
crime or tragedy stories in its first news segment before breaking for commercials at the 13-minute mark.
Fox4's most popular and heavily promoted newscast, its one-hour 9 p.m. edition, split the difference with five crime or tragedy stories before the initial break.
What comes next may shock or stun you, as many in the TV news biz enjoy proclaiming.
Tuesday's most-watched newscast, both in total homes and with advertiser-favored 25-to-54-year-olds, turned out to be Belo8's 10 p.m. edition. And that's not because the station enjoyed any appreciable "lead-in" advantage from prime-time's closing 15 minutes of network entertainment programming.
NBC5 in fact had a small edge on that score with
Law & Order: SVU
. Belo8 was a close second (
Boston Legal
) and CBS11 had a competitive third-ranked lead-in from the Academy of Country Music Awards. All things considered, it's about as even a playing field as you're going to get on any one night of the ongoing May "sweeps."
So does Belo8's win signal anything? Are viewers looking to get off the ooh-scary merry-go-round?
For now at least, Belo8 clearly is trying to drive a wedge through the void created by its two principal competitors. NBC5 and CBS11 whisk viewers from one "urgent" reporter live shot to another. And those reporters invariably are bringing quick whiffs of stinkum. Bad things happen on a daily basis in the country's very populated No. 6 TV market. NBC5 and CBS11 are going to throw it all at you or look like idiots trying to manufacture something that isn't.
This brings us to NBC5 Mistress of the Dark
Susan Risdon
, who had one for the ages Tuesday night. Anchor
Jane McGarry
dutifully set the table, informing viewers that "startled parents are talking about a wild tale tonight from under the Golden Arches."
And what might that be -- Ronald McDonald hanging out with the Geico cavemen? But no, McGarry got all excited about a "nasty animal on the playground" before turning it over to The Mistress.
"A scary looking creature sent everyone scrambling inside," Risdon reported. And take it from a nearby nanny, "it wasn't a squirrel. The kids would have known."
But what was it that supposedly sent the little ones running from the McDonald's play area? Well, we'll never know for sure, but Risdon knew this: "The mystery creature escaped back through the fence. The manager tells me it had a long nose and was not a rat."
This NBC5 "exclusive" played as Tuesday night's No. 4 story. Over at CBS11, there must have been a fearsome price to pay for not having it. No more Happy Meals for a while. Get out there and get something meaty, dammit! Find a giant cockroach at Wendy's or you'll be workin' for 'em!
The station did have a Dallas teen "talking exclusively to CBS11" about an alleged kidnapping attempt.
"So how frightened are you to go outside now?" reporter
J.D. Miles
asked her.
Very frightened, said the girl, whose face at least wasn't shown on camera.
It's a shame to see Miles slowly going down the drain under CBS11's new newsroom regime. He's one of the market's better reporters, as is Risdon. But neither gets any nourishment. Their stations' formats require them to find a nightly crime or tragedy, and then spit it out as quickly as possible. Gotta move on. A car wreck beckons in Sunnyvale. Or a fire in Pleasant Grove. And if you don't like those assignments, then you'd better come up with a giant fire ant in a Kentucky Fried Chicken bucket.
Some crimes should be reported, obviously. And Belo8 erred in completely ignoring the discovery Tuesday of a missing SMU senior who apparently had gotten heavily into drugs. She was found dead near Waco, her body dumped in a portable toilet. NBC5, CBS11 and Fox4 all played the story prominently on their 10 p.m. newscasts, and they can't be faulted for that. It's another cautionary wake-up for any parent of a college student.
Belo8 otherwise had a substantive investigation by
Brad Watson
into unlicensed air-conditioning repair people who scam the unknowing. And reporter
Chris Hawes
led the newscast with a "North Texas Miracle" story of a Dallas man whose comatose wife died of a brain aneurysm just two days after doctors delivered her baby girl via C-section.
Fox4's
Jeff Crilley
also had a heart-warmer about a young autistic boy whose parents see a vast difference in him when he's with his calming "service dog." They're hoping to get permission from the Wylie ISD to let the Golden Retriever accompany the boy to classes.
Veteran Fox4 medical reporter
John Hammarley
later had an interesting report on a new diet system that feeds off individual genetic profiles. NBC5 regularly touts just about any new health product as a medical miracle. Hammarley was duly skeptical, interviewing a naysaying doctor and telling viewers at story's end, "For now, get moving and eat more fruits and veggies."
On the fun 'n' games front, Belo8 tempered its "happy talk" after running amuck the previous night. But sports anchor
Dale Hansen
got a shot in at weatherman
Pete Delkus
, who's usually the instigator.
Delkus earlier had promoted his station's ongoing
Daybreak
series on surviving Texas weather. While doing so, he agreed with anchor
Gloria Campos
that lightning can strike indoors as well as out, particularly if you're on the phone or in a bathtub.
Hansen didn't buy it.
"You made that up about getting hit by lightning indoors just to hype that story tomorrow, didn't you?" he asked Delkus.
"Well, yeah, maybe a little bit," Delkus said, chuckling.
Campos then chimed in to say that in fact you really can get hit by lightening indoors. Atta girl. Because after all, "Delkus delivers." And he's portrayed as nearly God-like in some of those new Belo8 promos and billboards.
Over on CBS11, anchor
Doug Dunbar
reminded viewers to stay tuned to the station's "exclusive interview" with Dallas Cowboys QB Tony Romo and girlfriend Carrie Underwood at the Academy of Country Music Awards.
It came courtesy of former CBS11 reporter
Christina McLarty
, who's now covering entertainment for the CBS-owned station in Los Angeles.
"I mean, we're really good friends that spend a lot of time together and we talk a lot," Underwood told McLarty during the red carpet media gang bang.
She did concede, though, that the two were "on a date."
"We're really dressed up for this date tonight, too," Romo added.
McLarty's own dating habits lately have been making the gossip rounds. But Dunbar and co-anchor
Karen Borta
didn't ask her about her relationship with
Girls Gone Wild
sleazebag Joe Francis, who's lately been facing charges of sexual battery, contempt of court and tax evasion.
Maybe next time, eh?