This just in: A night in the lives of D-FW's late night newscasts (Thurs., Nov. 10)
11/11/11 02:09 PM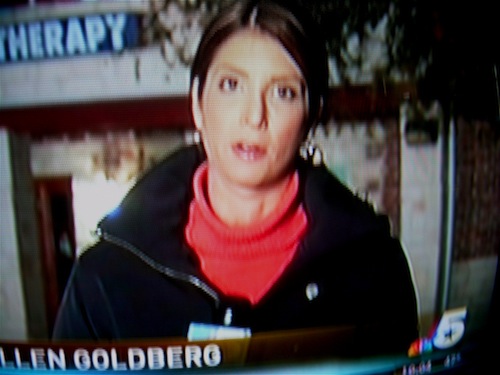 Reporter Ellen Goldberg has helped NBC5 stay ahead of the pack.
Photo: Ed Bark
By ED BARK
For three nights running, D-FW's four major TV news providers have been swarming around the offices of Dr. David Allen Russell, the McKinney chiropractor charged with sexually molesting two teenage girls while examining them.
But just one station is ahead of the pack. That would be NBC5, whose reporters have landed two exclusive interviews while Fox4, WFAA8 and CBS11 have basically been bystanders.
Ellen Goldberg
has been NBC5's point person during the station's 10 p.m. newscasts while colleague
Randy McIlwain
works the the dayside.
As previously posted, Goldberg had the only interview Wednesday night with a teacher at the next door Taylor Dance Studio. She notified police after one of her students claimed that Russell had improperly touched her during an examination for a groin injury.
On Thursday's late night newscasts, all four stations reported on a police raid of Russell's now vacated clinic. They supposedly were in search of evidence that might link him to other instances of sexual abuse. Only NBC5, however, landed an on-camera interview with the accused doctor's attorney, Raf De La Garza.
Goldberg fronted this exclusive during her live late shift standup outside Russell's offices. But it was McIlwain who got the interview earlier Thursday. "Handing off" to another reporter during shift changes is a common practice at all four stations. In high-profile instances like this, though, it would be a good idea to mention a colleague's contribution. An anchor easily could do that after the story had ended.
De La Garza took things in a decidedly different direction, contending that a 16-year-old patient who claimed she had been molested "does not have a reputation for being truthful" while a 13-year-old accuser may have been confused because Russell's treatment was near her genitals.
All of Russell's treatments were "totally professional," he emphasized. "The door to the exam room is left open. Parents are welcome to come in and sit down. There are staff (coming) in and out asking questions about every patient. It's just impossible that these acts that are alleged could have ever happened. Impossible."
Authorities and possibly a court of law will determine who's telling the truth. But this is a ratings "sweeps" period and the allegations against Russell at times almost seem like a local companion piece to the ongoing child molestation scandal at Penn State University.
In this particular feeding frenzy, only NBC5 has broken through to the other side, giving viewers a chance to hear De La Garza's defense of a client whose life might now be ruined whether he's guilty or innocent.
WFAA8 at least made phone contact with Russell and from the start has informed viewers of his unequivocal denial of the charges via on-screen printed statements. CBS11's Tuesday and Wednesday night reports said that knocks on Russell's private residence door weren't answered.
On Thursday night, CBS11 reporter
Bud Gillett
said he had contacted Russell by phone, but was referred to his attorney, who "would have a lot to say." But that's as far as it went that night.
Fox4's handling of the story was particularly atrocious on Wednesday night, when reporter
James Rose
made no mention at all of Russell's denials -- or even of any attempt to reach him. Rose had ample opportunity, both in his story and during a subsequent live Q&A with co-anchor
Heather Hays
.
On Thursday night, Fox4 reporter
Natalie Solis
took over for Rose, telling viewers that Russell's attorney "did not return our calls" after the accused referred her to him. Given the previous night's judge/jury/executioner approach, why would he?
***
On the plus side, Fox4 led Thursday night's 9 p.m. news with veteran investigator
Becky Oliver
's compelling story about justice delayed -- if rendered at all.
Stifling her oft-deployed on-camera histrionics, Oliver spotlighted two women who had despaired of ever having their days in court.
Stephanie Cook's husband died in a December 2008 car wreck, with a 19-year-old charged with intoxication manslaughter. For various and vexing reasons, it still hasn't come to trial. But a court date is is finally scheduled for January of next year -- for now at least.
"It's been hell," Cook said of the loss of her husband and the nearly three-year wait for some sort of closure. "We had plans. We had a future. And all of that's gone."
Darlene Roberts' frustrations date to 2007, when a would-be burglar broke into her home and tried to choke her. He's been free for the past four years after first pleading guilty and then changing his mind. Roberts said she lives with a gun near her side and all doors and windows locked whenever she's at home. She reluctantly agreed to a probation deal for the defendant in order to put the matter behind her as best she can.
Simply put, their stories hit home. And the oft-brawling Oliver told them well, and without calling attention to herself.
CBS11 started off with
Jason Allen
's look at what seems to be lavish spending on new Tarrant County "sub-courthouses" after co-anchor
Doug Dunbar
first promised fireworks from one of the story's targets.
Tarrant County Commissioner J.D. Johnson proved to be cantankerous, at one point telling Allen that "I'm not pleased with this interview." But he didn't throw anything at the relative kid investigator -- or throw him out of his office for that matter. That seems to happen only to WFAA8 gumshoes.
Allen made some good points along the way, noting that Dallas County officials had renovated an old grocery store into a sub-courthouse at a fraction of the money being spent by Tarrant County commissioners in times when local government finances remain pinched. Spending is approved by commissioners without any voter referendums, which is "wrong with a Capital W" in the view of former Tarrant County commissioner Bob Hampton.
Johnson was the only current Tarrant County commissioner who agreed to do an on-camera interview, Allen noted in fairness. He turned out to be "good television" to a point, although an attempted roundhouse right to Allen's jaw would have made it all the better. Some reporters have all the luck.
One of them is longtime WFAA8 digger
Brett Shipp
, who in recent times has dodged an ice bag and been pushed by Dallas County Commissioner John Wiley Price.
But he was never in harm's way on Thursday's 10 p.m. edition. Shipp looked into the city of Dallas's decision to transport all of its commercial trash to a landfill in South Dallas despite objections by some of its residents. The decision was made after a startup California company named Organic Energy Corporation said that its proposed state-of-the-art recycling plant could result in the re-use of 90 percent of the waste and $50 million in annual net revenue to the city.
But by the end of Shipp's report, it all seemed like a carefully concocted fantasy, with OEC yet to build any kind of recycling plant even though its website says it has a brand new one in Dallas -- which it doesn't.
It made for a pretty complicated story told with reasonable clarity and with Shipp's usual gusto. But whether it really resonated with viewers is another matter.
NBC5's other big-ticket story Thursday night was Part 4 of its "5 Nights That Could Save Your Life" series. They've actually gotten better and better throughout the week, with co-anchor
Brian Curtis
at the helm this time.
He showed how to use AED defibrillators -- which are present in many workplaces and entertainment venues -- to shock the heart of someone who has gone into cardiac arrest.
After the taped part of his piece, Curtis brought one of them to the anchor desk and dispensed some additional nuggets of information.
"Gosh. Wow. OK, we've learned so much this week, haven't we," anchor
Meredith Land
enthused.
Easy now. But a "sweeps" series that at first blush seemed laughable has turned out to be not so bad after all.