Heavy, but sometimes lightweight coverage of terrorist threat tops Thursday's 10 p.m. newscasts
09/25/09 09:49 AM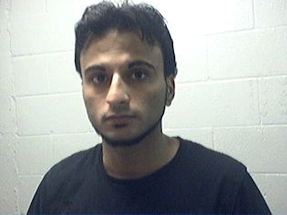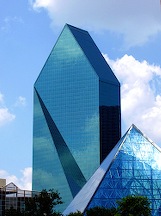 Police mug shot of Smadi, and his intended target, Fountain Place.
By ED BARK
"Team coverage" of the thwarted terrorist bombing of Fountain Place dominated 10 p.m. newscasts Thursday after the story broke during early evening hours.
WFAA8 had the most thorough account, but also some ill-considered lapses in its news scripts. Most of the new information had to do with 19-year-old suspect Hosam Maher Husein Smadi's previous life in Italy, TX, where accounts varied as to where he worked.
Fox4 and WFAA8 both said he had worked at a Shell station off of I-35. CBS11 said it had confirmed he was employed at Texas Best Smokehouse, which is located inside the station. NBC5 quoted what amounted to hearsay from a woman, Shelly Thompson, who said, "I just heard that the guy that was the manager at the Sonic had plotted a terrorist threat or a bomb at a building in Dallas."
NBC5's Ashanti Blaize reported the story while standing live in the dark in Dallas, although she supposedly "searched for people who knew him (Smadi)." Blaize said that Thompson also told the station that Smadi "even interviewed her daughter" for a job at Sonic.
The Dallas Morning News
agreed with CBS11's account in its
website coverage
. NBC5 so far is alone among both television and print accounts in making any Sonic connection.
All four stations responsibly underscored that this was an FBI sting operation in which Smadi was given a fake bomb for his intended destruction of the prominent downtown Dallas skyscraper. He parked a Ford Explorer in a parking garage beneath Fountain Place before attempting to detonate the phony explosive with his cell phone.
"The minute he made that call -- boom -- it went straight to the FBI," WFAA8 anchor Shelly Slater told viewers via a script that should have been more carefully vetted.
Later in the station's newscast, WFAA8 reporter Monika Diaz, reporting live from Italy, made another ill-advised slip.
"His friends and neighbors called him a rock star," she said of Smadi. "Tonight they are blown away by his arrest."
But WFAA8 also had the only interviews with Italy residents who actually were friends with the suspect.
"That's not the 'Sam' we know," said a woman who said he had babysat for her.
At newscast's end, WFAA8's David Schechter talked to a woman who said she had Smadi over for Thanksgiving dinner. Speaking with her identity and face concealed, she made yet another unfortunate choice of words after saying that Smadi must have been "coerced" into his criminal actions.
"If you tell him 'It's fun, it's great, you'll have a blast,' he's always down for it," the woman said.
Fox4's Sophia Reza and CBS11's J.D. Miles also reported live from Italy, but couldn't round up anyone who said they actually knew the suspect.
"No one would comment about Smadi, other than to say that they were very surprised," Reza told viewers.
"People who know Smadi aren't speaking on camera," Miles said. "They say authorities have told them not to talk. But those who worked with him here at this popular I-35 travel stop have looks of absolute disbelief on their faces tonight."
NBC5 offered viewers no visual evidence that Blaize ever went to Italy at all. But the station wasn't shy about displaying several comments posted on the nbcdfw website, which its corporate parent is pushing hard after drastically revamping it. "Kudos to the FBI for their successful operation and for protecting America from scum like that," one commenter said in part.
Three of the four stations, excluding CBS11, talked to retired FBI agent Danny Defenbaugh, who supervised the Dallas office during the Sept. 11th terrorist attacks. Only WFAA8 spelled his name wrong, with two f's.
On the plus side, WFAA8's Brad Watson had the best summary of how the sting unfolded. NBC5's Scott Gordon's account also was both easily understood and succint. He ended by telling viewers, "The FBI stresses tonight the public was never in any danger. Smadi was under constant surveillance. The bomb was not real."
Fox4, WFAA8 and CBS11 all reported that a "suspicious package" had been found later Thursday night on the sixth floor of Fountain Place. But only CBS11 and anchor Doug Dunbar put any further fears to rest by also assuring viewers that it turned out to be "a bucket of unknown liquid, nothing lethal, we're told."
In contrast, WFAA8 anchor Gloria Campos said there was "no word on what was found." And Fox4 reporter Emily Lopez said police are "waiting on the owner to identify its contents."