Network morning shows again frozen out by D-FW's "Winter Blast"
02/09/11 07:43 AM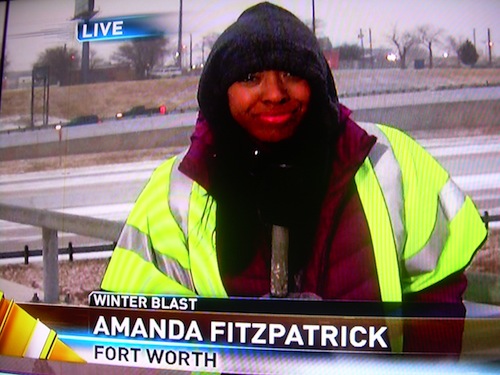 NBC5's Amanda Fitzpatrick again braved the big chill. Photo: Ed Bark
By ED BARK
It's another icy, crappy morning in North Texas. Do you know where your network morning shows are?
For the fourth time in the last seven weekdays, NBC5, WFAA8 and CBS11 all ran another "Winter Blast" marathon while respectively preempting the 7 to 9 a.m. editions of
Today, Good Morning America
and
The Early Show
. Fox4's
Good Day
continued as usual with its regularly scheduled local two hours.
The visuals and rhetoric pretty much stayed frozen in place. Reporters shivered in the elements and pawed at the snow and ice while in-studio anchors told them how cold they looked. NBC5's Amanda Fitzpatrick spoke for the stations' great unwashed by noting, "The less you see of my face, the harder the wind and the sleet."
Weathercasters Pete Delkus on WFAA8 and Larry Mowry on CBS11 (along with his colleagues) again dramatically stripped down to their shirtsleeves while Fox4's calmer Evan Andrews remained coated and NBC5's Jennifer Lopez kept her sweater on.
School closings occupied bottom-of-the-screen crawl spaces while traffic crawled along. Motorists were exhorted to drive slowly, but a stalled car always makes for a prized live shot, particularly if it's facing in the opposite direction after spinning out.
Obliterating the network morning shows -- during the heart of the February "sweeps" ratings period -- is pretty much a no-brainer under these circumstances. Still, some viewers no doubt were beaten down by the redundancy or irked by promotions for network show attractions that never materialized. NBC5 sought to make amends by offering a delayed 9 a.m. telecast of
Today
's West Coast feed, which will include the show's featured interview with First Lady Michelle Obama.
All four stations of course have mounted their own promotional campaigns on behalf of their stellar winter weather coverage. Only WFAA8 had . . . Only Fox4 gives you . . . etc., etc.
Audiences in fact are comparatively huge for these weather-centric 7 to 9 a.m. segments, with Fox4 drawing the most total viewers on Tuesday and Wednesday of last week while NBC5 took the top spot on snow-blanketed Friday.
All of this has been a head cold for WFAA8, which used to be the automatic go-to station for big breaking news. Now it only beats longtime doormat CBS11 -- and not by that much on some days. Here's how it looked during Friday's 7 to 9 a.m. snowmageddon:
NBC5
-- 290,879 viewers
Fox4
-- 263,177 viewers
WFAA
-- 186,994 viewers
CBS11
-- 145,440 viewers
Stay warm.