Local Nielsen ratings snapshot (Fri.-Sun., Sept. 16-18) -- Cowboys' last ditch win flexes before Sunday Night Football bests Emmys
09/19/11 10:38 AM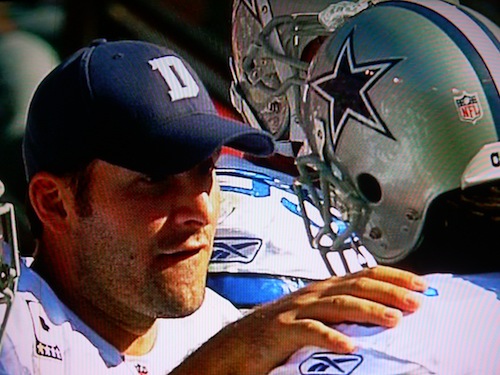 Tony Romo counsels Jesse Holley before they team up big-time.
Photo: Ed Bark
By ED BARK
Tony Romo rode again Sunday, turning his legions of doubters into true believers -- at least for a week -- by fighting off the pain of a broken rib and leading the Dallas Cowboys to an exhilarating comeback win at San Francisco.
The mid-afternoon game on Fox started slowly with 768,753 D-FW viewers for its first 15 minutes before more than doubling that crowd for the 6:15 to 6:30 p.m. overtime climax (1,648,317 viewers). The entire game averaged 1,274,329 viewers, well short of the 1,634,465 who watched the Cowboys collapse against the Jets on the NFL's principal prime-time stage, NBC's
Sunday Night Football
.
Cowboys-49ers averaged 644,958 viewers in the motherlode 18-to-49 demographic compared to the 835,812 who watched the Jets snatch victory from Dallas in the regular season opener after Romo fumbled near the New York goal line and then threw an interception that led to the winning field goal.
But against the 49ers, Romo heroically returned to the field after initially being ruled out of the game by the Cowboys. He talked himself back in and also mentored spare part receiver Jesse Holley, who caught a 77-yard pass from Romo on the Cowboys' first play in overtime. A little 19-yard field goal then sealed the deal and possibly saved Dallas' season from another early meltdown.
Fox's three-hour Primetime Emmy awards, which began a half-hour after the Cowboys game ended, averaged 581,759 total viewers, a very respectable number. But NBC Eagles-Falcons game, which started roughly a half-hour later, outpointed it with an average of 664,867 viewers.
Also, the Emmy audience tailed off throughout the night while
Sunday Night Football
added viewers. The closing 9:45 to 10 p.m. portion of the Emmys, in which the best drama and comedy series winners were announced, had 422,468 viewers. In that same 15-minute increment, Eagles-Falcons drew 803,381 viewers. Football also whipped the Emmys among advertiser-craved 18-to-49-year-olds.
Over on Fox Sports Southwest Sunday afternoon, the first-place Texas Rangers went directly against the Cowboys while beating Seattle 3-0. The game averaged 117,737 total viewers, less than one-tenth the size of the overall audience for Dallas-San Francisco.
CBS' early afternoon Jets-Jaguars game drew 477,873 viewers before the network's Patriots-Chargers faceoff shrunk to 173,143 viewers opposite the Cowboys.
On Saturday, the most-watched college football game, ABC's matchup of powerhouses Oklahoma and Florida State, pulled in 387,839 viewers. ABC's preceding Texas-UCLA game had 270,102 viewers.
In Friday's local news derby results, WFAA8 won at 10 p.m. in total viewers and shared first place with NBC5 among 25-to-54-year-olds, the main advertiser target audience for news programming.
Fox4 ran the table at 6 a.m. while also winning at 5 and 6 p.m. in the 25-to-54 demographic. The 6 p.m. total viewers gold went to CBS11 while Fox4 and NBC5 tied for first place in that measurement at 5 p.m.
The new fall season officially starts on Monday, Sept. 19th, with all five major broadcast networks weighing in with first-run programming while ESPN counters with another edition of
Monday Night Football
.