WFAA8's Shipp wins one, loses one in exposes of Southlake Carroll, Euless Trinity football programs
09/15/10 01:00 PM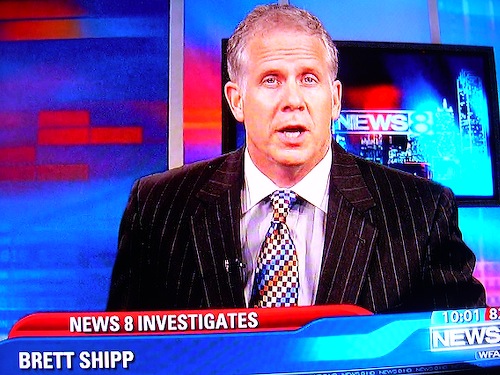 By ED BARK
The juries are in on WFAA8 gumshoe Brett Shipp's much-talked about looks into alleged irregularities in the high-powered high school football programs at South Lake Carroll and Euless Trinity.
His lengthy
late August investigation
into the eligibility of Oklahoma import Daxx Garman has led to a season-long suspension of the would-be Southlake Carroll quarterback. The University Interscholastic League voted 4-0 in Austin Tuesday to reject the Garman family's appeal that their son be reinstated to the team. Shipp covered the hearing, but did not appear on camera during WFAA8's report Tuesday.
In a related development, both Southlake and Euless Trinity officially have been cleared of holding allegedly improper summer practices in which coaches seemingly gave instructions to players. Shipp reported
that followup story
in the week after his Garman expose. On the morning before it aired, he gloatingly teased it on his Facebook page, asking, "Sniff, sniff!!!! Is that the smell of two cooked seasons?" Shipp removed that post after a story about it appeared on unclebarky.com.
WFAA8's Tuesday story on the failed Garman appeal gave relatively short shrift to the other official rulings in favor of the two high schools. In fact, the station still seems to be in denial. At the end of WFAA8's brief notation, anchor Casey Norton told viewers that "no one has yet explained what our cameras did see."
Fox4, NBC5 and CBS11 all covered the Garman decision on their web sites. CBS11's Melissa Newton and Fox4's Lari Barager also reported it on the air. None mentioned WFAA8's role in breaking the story that sealed the senior quarterback's fate. That's all too typical of the TV news business, but hardly surprising. Giving credit where it's due is a non-starter when it comes to mentioning a competitor's enterprise. That is, unless your competitor is involved in a scandal or questionable activities. Then it's more than OK.
Here's the video of WFAA8's coverage, which includes its postscript on rulings in favor of Southlake and Euless.