Ragland arrest is responsibly (but very differently) covered by both Belo entities
11/28/11 10:49 AM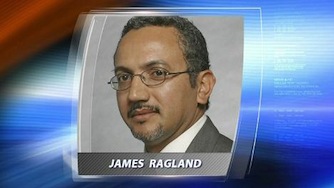 By ED BARK
Both WFAA8 and
The Dallas Morning News
commendably haven't tried to hide the arrest Sunday of a prominent Metro columnist for the newspaper.
James Ragland is free on bail after being arrested on a misdemeanor charge of domestic assault against his wife.
Before looking at their strikingly different approaches to the story, let's note that although they're supposedly separate entities now, WFAA8 and the
DMN
both operate under the Belo corporate umbrella. And as relatives who share a downtown Dallas parking lot, they regularly cross-promote each other and cooperate on breaking stories. So the bond remains intact, even if both now are traded separately on the New York Stock Exchange. In that context, the Ragland arrest hits close to home for the
DMN
and WFAA8.
WFAA8 reported on the matter during its Sunday early evening and late night newscasts. A virtually identical account is on wfaa.com in a brief story headlined "
Dallas Morning News
columnist arrested on family violence charge."
The brief WFAA8 story, read by anchor Casey Norton, aired in the middle of Sunday's newscasts and was fairly general in details. "Police told News 8 that James Ragland got into an argument with his wife on Saturday night, and she felt threatened," the station reported. "The dispute continued at church on Sunday, where members of the congregation called 911."
WFAA8 also included a statement from
DMN
editor Bob Mong, who said, "We will not be commenting until we learn more about the specifics. In the meantime, we care deeply about James and his wife and hope for the best possible outcome."
Official statements such as these generally are
pro forma
in any
DMN
story involving an employee or a sensitive corporate issue. But the newspaper's Monday print account (on 2B of the Metro section under "Regional Roundup,") had nothing at all from Mong and was far more detailed in terms of what Ragland allegedly did to his wife.
The newspaper's story, headlined "Columnist arrested in domestic assault case," said that she "told police Ragland became upset Saturday evening because she was texting someone. He told her he wanted to hit her and threw her cellphone at her, according to a police report. She said Ragland pushed her to the floor and pulled her hair while she was getting ready for church Sunday morning."
The
DMN
account also says that when Ragland arrived at church about 9 a.m., two Dallas police officers were present. "He told them he had 'placed his hand on the top' of his wife's head, according to the report."
Ragland was arrested and booked into a Dallas County jail before being released on bail Sunday evening, "but could not be reached for comment," the
DMN
story concluded.
It remains to be seen what if anything rival D-FW newscasts will do with the Ragland story. Fox4, NBC5 and CBS11 had no coverage on Sunday's editions.
Personal note:
James and I played softball together for several years on a
DMN
team. We didn't socialize otherwise, but liked each other and had some good conversations about sports and otherwise. So as Mong says, I hope for the "best possible outcome" to this for all concerned.