Congressional candidate and former NBC5 reporter Grant Stinchfield buys ad time on his old station to attack his old station
04/18/12 03:56 PM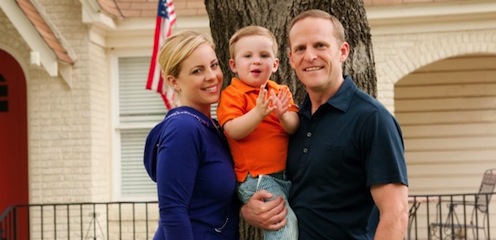 Grant Stinchfield in campaign website photo with wife Amy Vanderoef of WFAA8's Good Morning Texas and their son, Wyatt.
By ED BARK
Former NBC5 reporter Grant Stinchfield is not only running for Congress but lately against the Fort Worth-based TV station where he spent seven years before
resigning a year ago
.
Stinchfield, a conservative who's challenging Republican incumbent Kenny Marchant for the 24th District seat, is accusing NBC5 of squelching stories to protect special interests. His vehicle is a new 30-second ad running on this week's Wednesday and Thursday editions of NBC5's 4 p.m. newscast.
Appearing against a plain white backdrop, Stinchfield says for openers, "I used to bring you the news nearly every night, but here's what you didn't know. Too many times NBC refused to let me tell the stories you needed to hear. Was it liberal bias or simply the fear of losing ad dollars? I believe it was both."
Stinchfield, who initially left NBC5 to take ownership of a KWIK Kar Auto Lube and Repair business in Irving, says he won't be "censored" once he gets to Washington.
"NBC may not have approved this message, but I do," he says.
In a phone interview Wednesday, Stinchfield said, "I think they could choose not to air it, but they're airing it."
The ad indeed did air during the first half of Wednesday's one-hour edition.
Asked about Stinchfield's allegations, NBC5 issued a statement late Wednesday afternoon. "We consistently maintain the highest news standards and policies, and always demand fair and balanced reporting from all of our journalists," it said. "Mr. Stinchfield is a legally qualified candidate for federal office, and we are, therefore, obligated under federal law to air his ad. However, his allegations related to NBC5 are simply not true."
NBC5 vice president of programming Brian Hocker said the station would have no further comment on the matter.
Stinchfield, who is married to Amy Vanderoef, co-host of WFAA8's weekday
Good Morning Texas
program, offered some specifics during Wednesday's earlier telephone interview.
While a reporter at NBC5, Stinchfield said, he received a tip that General Motors was going to buy a suite at the new Cowboys Stadium.
It was shortly after the government bailout of the auto giant, so "I made a phone call to GM headquarters," Stinchfield said. "And 20 minutes later, I was hauled into the manager's office and told, 'You will never make a phone call on that story again.' Whether or not they ever bought that suite, I have no idea."
Stinchfield said that he was told to drop that particular story in the presence of a "whole bunch of them (news room managers) that were involved. My guess is that GM called NBC headquarters in New York and then the word got passed down." NBC Universal is the parent company of Fort Worth-based NBC5.
On another occasion, Stinchfield said he "wanted to do a story on unions and their impact on American Airlines. And it never made it past the story pitch level. They simply told me no one would be interested."
Stinchfield has aggressively campaigned against Marchant as well, with headlines on his
official campaign website
ranging from "Kenny Marchant Absent from the Community" to "Kenny Marchant's Fake Endorsements."
Whether going after his opponent or his old station, "I'm not fooling around," Stinchfield said in the telephone interview. "It goes to the whole heart of this campaign. I am so tired of the nonsense, whether it's at the local level or in Washington. And we have to put transparency over secrecy."
Below is Stinchfield's latest campaign ad.