New dawn at NBC5 (but with anchor setup still cloudy)
01/12/14 12:01 PM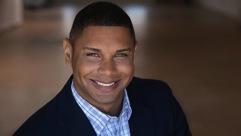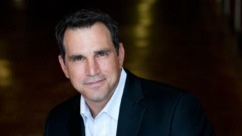 Eric King and Marc Fein of NBC5's new early morning team.
By ED BARK
@unclebarkycom on Twitter
A new early morning news configuration dawns on NBC5 Monday.
But the shape of things is still an open question because station management has yet to return repeated messages asking for clarification.
NBC5 staffers Marc Fein and Eric King both say on their NBC5 Facebook pages that they'll be part of the latest setup. As
first reported Wednesday on unclebarky.com
, weekday waker-upper co-anchor Mark Hayes has left NBC5 by supposed mutual agreement after he spent less than two years alongside longtime incumbent Deborah Ferguson.
Fein, who joined NBC5 from Turner Sports in October 2011, says on Facebook: "Very excited about moving to the mornings and NBC5
Today
with Deborah Ferguson! I start Monday (Jan. 13), so you might notice a bit of a different schedule in terms of my posts. For all my DFW friends, please check us out every morning starting at 4:30 a.m."
King, who joined NBC5 in March from WLKY-TV in Louisville, KY, says on Facebook: "Well -- after a very long week, I have some exciting news! I've been added to the NBC5 Anchor Team. I will join Marc Fein, Deborah Ferguson, Grant Johnston and Samantha Davies weekday mornings starting at 4:30 a.m., then I'll join Kristi Nelson on the midday desk at 11 a.m. Our new show starts Monday!"
Vice president of news Susan Tully and vice president of programming Brian Hocker have not responded to several inquiries about exactly what Fein's and King's duties will be. There also has been no official word on who will replace Fein as co-anchor of NBC5's 5 and 6 p.m. weekday newscasts.
It should be noted that Hocker did confirm Hayes' departure from the station. But going through "proper channels" since has been fruitless in terms of obtaining official further details on NBC5's early morning and evening newscast changes.
Sources at NBC5 say staffers have been informed that King will be "some kind of in-studio reporter" on the station's early morning editions. Hayes, who like King is African-American, had joined NBC5 in May 2012 from WAGA-TV in Atlanta, where he was an early morning anchor for 10 years. He's now looking for another job in TV news.
***
The early morning changes come during the formative stages of NBC5's new "content sharing" deal with
The Dallas Morning News
, which long had been the synergistic partner of its downtown Dallas next door neighbor, WFAA8. The newspaper cut ties with WFAA8 in tandem with the station being taken over by Gannett after more than 60 years of Dallas-based Belo Corp. ownership.
Let's just say that the new deal still rankles WFAA8 staffers from the top on down. Or as one veteran put it under condition of anonymity: "The partnership with NBC5 irks us all."
Email comments or questions to:
unclebarky@verizon.net