This just in: A night in the lives of D-FW's 10 p.m. newscasts (Tues., Nov. 17)
11/18/09 02:06 PM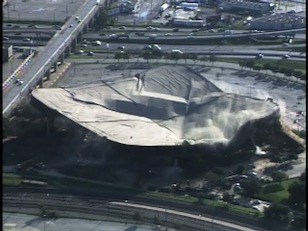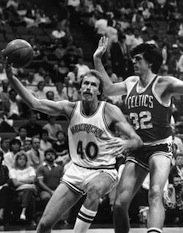 Goodnight sweet home of former Dallas Maverick Kurt Nimphius.
By ED BARK
Jumbo-sized, fall-down, go-boom video generally is prized by your basic TV news gathering operation.
The pictures pretty much tell the story, and viewers get a nice ooh-ah moment in return. This is particularly true when a well-known building breathes its last.
It was surprising then, to see WFAA8 resort to a "Courtesy:
The Dallas Morning News
" tag for murky video of Reunion Arena tumbling down Tuesday afternoon after almost 30 years of service. The original home of the Dallas Mavericks -- and site of many a high-powered concert -- left lots of dust and memories just a few blocks from the Belo downtown compound, where WFAA8 and the
DMN
are divided by only a driveway and a guard shack. I kind of expected the Full Monty on WFAA8's 10 p.m. newscast, but instead saw only cursory treatment and lousy pictures in comparison to those on Fox4, NBC5 and CBS11.
Fox4 paid the most respects, with
James Rose
posted live at the demolition site Tuesday after anchor
Baron James
set the table by telling viewers, "Reunion Arena went out in style, crumbling and collapsing in a massive cloud of dust."
Those who engineered the downfall called it a "textbook collapse," said Rose, who also gave viewers a little history of the place, complete with video from a Michael Jackson concert. The pictures, both from ground level and overhead, were suitably wowza. A yahoo spectator told Rose, "It sounded like two freight trains colliding. I mean, it was awesome."
NBC5 deployed reporter
Omar Villafranca
after anchor
Jane McGarry
noted that the first performance at Reunion was by Parliament Funkadelic.
"Today's demolition
was
sort of like a rock concert," Villafranca said. "You had plenty of loud noises if you were out there."
His story also featured a crazed onlooker who seemed to be play-acting for the cameras more than just a little. Fortuitously, the second part of his rave-up was silenced by audio problems.
CBS11 didn't have a reporter on the scene for its 10 p.m. newscast. But the station did have its own overhead pictures from Chopper 11. WFAA8, relying on video from a newspaper web cam, looked out to lunch in comparison. The demise of Reunion, easily the day's foolproof picture story, cried out for more from its next door neighbor TV station. But on its most-watched newscast of the day, WFAA8 barely gave the old showplace a glimpse.
The station's wizened
Gary Reaves
no doubt would have done a nice job with a Reunion essay. But he instead spent his time on a story about Cowboys Stadium being without an interior American flag during a recent high school football game.
A military color guard is generally the way Jerry's Palace rolls, but this particular one didn't have a Stars and Stripes in hand, Reaves reported. Cowboys officials say it was a "communication breakdown." And Arlington Mayor Robert Cluck, when pressed by Reaves, said he'd prefer that Old Glory be flying at all times inside the Cowboys' emporium.
It wasn't exactly a mega-scandal, but WFAA8 consistently has been far more critical of Cowboys Stadium than rival stations. Coincidentally or not, its network, ABC, also is the only Big Four broadcaster without any NFL games. The Cowboys haven't been on ABC and WFAA8 since
Monday Night Football
relocated to ESPN several seasons ago.
Going the extra miles
-- CBS11 had the only staff reporter in College Station Tuesday night for the 10th anniversary of the since officially discontinued Texas Aggie bonfire celebration, in which 12 students were killed. The station's
Jay Gormley
reported live from the scene; Fox4 also had a live report, with Keri Bellacosa of Austin's Fox7 doing double duty.
Worth watching
-- Ace WFAA8 general assignment reporter
Jim Douglas
had an eye-opening story on a backlog in DNA testing that resulted in the very belated arrest of a sub-human who abducted and sexually assaulted a 13-year-old Cleburne girl 10 years ago. The FBI had the abductor's DNA for more than four years after he was held on another charge. But the feds only recently got around to testing it and then arresting 53-year-old
Dennis Griffith of Bosque County.
CBS11's
Carol Cavazos
had a heartwarmer on a 24 cents-per-DISD student fundraising effort on behalf of a paralyzed former Pinkston Vikings football player whose number was 24. And anchor
Karen Borta
narrated an interesting piece titled "Man With No Heartbeat." Jovial 40-year-old Michael LeBlanc of Irving instead has been surviving with a Left Ventricular Assist Device (LVAD) while awaiting a possible heart transplant.
Rhyme time
-- The kids played quietly off-camera Tuesday, allowing WFAA8 weatherman
Pete Delkus
to do his 10 p.m. forecast uninterrupted after Monday's effort was waylaid by hijinks from anchors
John McCaa, Gloria Campos
and
Dale Hansen
.
Delkus then read an extended poem from a viewer who wrote in part, "Delkus gave the forecast, he knows the weather state. While Hansen, John and Gloria made it hard to concentrate."
Uncle Barky liked
his poem better
. Peace out.