This just in: A night in the lives of D-FW's 10 p.m. newscasts (Mon., Nov. 9)
11/10/09 02:39 PM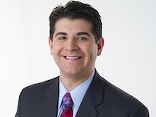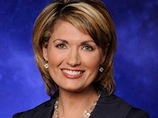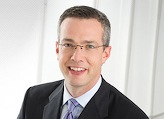 Local newsies Omar Villafranca, Karen Borta, David Schechter
By ED BARK
We're in the heart of the four-week November "sweeps" ratings competition, with two 10 p.m. heavyweights -- WFAA8 and CBS11 -- slugging it out for first place while Fox4 and NBC5 fight for table scraps.
We'll follow all of their news presentations for the next two weeks, with the sweeps ending on the day before Thanksgiving.
Fox4's 10 p.m. news needs a tonic compared to the others. It offered just three stories with identifiable reporter bylines, only one of them really an enterprise effort. That was from
Melissa Cutler
, who had an interesting piece on a longstanding salvage yard threatened with closure as part of the future Riverfront Drive development.
"We just don't want to be kicked out on our ear," said the owner of the fourth generation family business.
The station otherwise offered two reports on Fort Hood, one live from the scene by
Sophia Reza
and the other originating from the station's news room, courtesy of
James Rose
. All told, Fort Hood-related coverage consumed the first seven minutes of the newscast before Fox4 reeled off a burst of local crime-and-tragedy stories narrated by anchors
Clarice Tinsley
and
Baron James
.
In contrast, both WFAA8 and CBS11 led their newscasts with crime-related enterprise efforts.
WFAA8's
David Schechter
had a troubling story on illegal Mexican immigrants charged with serious crimes but never prosecuted. That's because they're put on buses and deported by Federal Immigration and Customs Enforcement, otherwise known as ICE. Accused rapists and drug dealers were among those getting free passes, Schechter reported.
On CBS11, reporter
J.D. Miles
did a jailhouse interview with a woman, Michelle Smith, sentenced to 210 years in prison after being convicted of ignoring her husband's repeated sexual assaults on their four-year-old daughter.
Smith contended she knew nothing of the abuse, and that "10, even 20 (years in jail) would have been fair." Instead, the 42-year-old convict will be eligible for parole in 90 years. In a companion online poll promoted by CBS11, 79 percent of respondents said "Her punishment fits the crime." Meanwhile, her husband is serving a life sentence.
CBS11 anchor
Karen Borta
later had an extended story on a mother of three who's "battling the odds" after being told she has incurable Stage 4 breast cancer. Borta actually got out in the field for this report, a rarity among anchors in today's TV news domains. So far the mother has survived for 15 months, rejecting her doctor's grim prognosis. It was an inspirational and worthwhile story.
WFAA8 reporter
Gary Reaves
had another uplifter, about an elderly woman faced with foreclosure on her home after her deceased husband refinanced it without her knowledge. Instead Well Fargo stepped in to drastically lower her monthly mortgage payments while the Knights of Columbus will be repairing a badly dilapidated roof. All's well that ends well.
NBC5's best effort of the night was from the reliably sturdy
Omar Villafranca
, who reported on a Denton mother who believes that her son was among those killed in 2002 by notorious
"D.C. Snipers"
John Allen Muhammad and Lee Boyd Malvo.
Muhammad, scheduled to be executed Tuesday night, has not responded to letters from the mother, Sarah Dillon, imploring him to either admit to or deny killing her son, Billy Gene, who was 28 at the time.
Trusty NBC5 Night Ranger Scott Gordon did double duty Monday night, reporting from Fort Hood at the top of the newscast and later providing a purportedly "rare look" at how the roof on the new Cowboys stadium got built. But the story basically amounted to a handout from the construction company and the Cowboys, who respectively provided video and still pictures to NBC5.
Few sweeps nights -- or any night for that matter -- go by without at least one story on the latest lazy way to shed fat or varnish wrinkles. WFAA8 medical reporter
Janet St. James
again carried the ball on this front after anchor
Gloria Campos
teased "the coolest new way to fight flab."
It turns out you perhaps can freeze it into submission via a new procedure that costs a thousand bucks a pop. A young woman on the receiving end seemed delighted with the prospect of losing a few dollops of tummy lard. Or as St. James concluded, she's "hopeful she won't have to hide under scrubs much longer."
Anchor
John McCaa
seemed skeptical before getting off a rare quip. McCaa said he lived in Nebraska for 15 years before arriving at WFAA8, and "the cold didn't make me lose any weight. I don't know what that's all about."
Blooper reel
-- CBS11 reporter
Jack Fink
's otherwise capable story on allegedly bilked condo time share owners was slugged "Buyer Beward."
Carbon Copies
-- Fox4 and NBC5, who have a "content sharing" arrangement (along with CW33), were the only stations to report at 10 p.m. on the happy recovery of a missing miniature donkey named Sunny and a convenience store shoplifting investigation. Perhaps that's just coincidental, perhaps not. But both stations need to step it up if they have any intention of matching the enterprise exhibited by their comparatively ratings-rich rivals.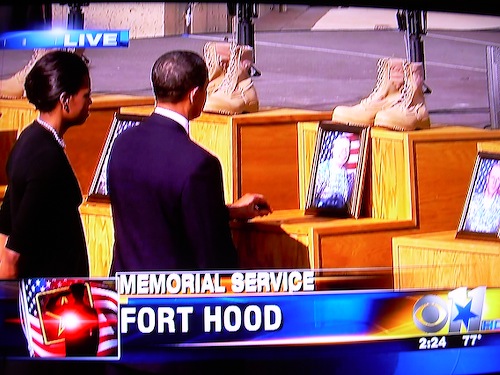 The President and First Lady pay their last respects. Photo: Ed Bark
Tuesday afternoon's memorial service at Fort Hood, attended by President Obama and his wife, Michelle, received truncated coverage on WFAA8 compared to rival stations.
The ABC affiliate elected to stay with the soap opera
One Life to Live
until shortly before 2 p.m., when the President began his remarks. Fox4, NBC5 and CBS11 all had covered the ceremony in its entirety up to that point, providing a context that WFAA8 bypassed.
The ABC News coverage, anchored by Charles Gibson, also ended earlier than the others -- at 2:15 p.m. WFAA8 bailed out, too, rather than provide an alternative live feed.
Fox4's extended coverage, a mix of local and Fox News Channel commentary, ended shortly after WFAA8's. NBC5, which went with its network's coverage, cut away next while CBS11, with local anchor Doug Dunbar presiding, stayed with the memorial service until 2:27 p.m.
The above picture, of the Obamas paying tribute to each of the 13 shooting victims, played out live only on CBS11 among the four broadcast outlets. It was a good decision on the station's part. WFAA8 on the other hand erred on the side of brevity, shortchanging a ceremony that clearly was more important than a garden variety soap opera episode.
Those who missed CBS'
As the World Turns
, which regularly airs from 1 to 2 p.m., can set their recorders for 1:12 a.m. Wednesday, Dunbar advised.