Local Nielsen ratings snapshot (Fri.-Sun., July 27-29) -- Olympics tower over all
07/30/12 02:18 PM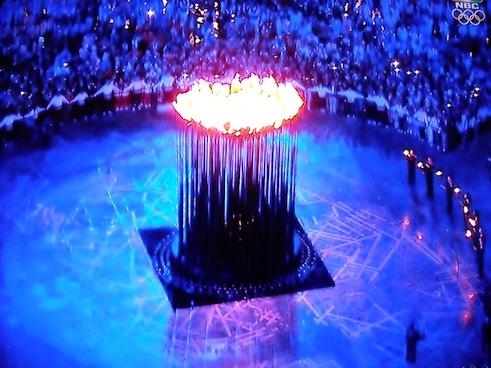 Viewing again carrying a torch for the Summer Games. Photo: Ed Bark
By ED BARK
@unclebarkycom
D-FW's Summer Olympics viewership isn't high enough to rank among the 20 top-scoring TV markets. But that's small comfort to competing programming, including the Texas Rangers.
Friday night's opening ceremonies from London averaged 894,181 D-FW viewers on NBC, with only the Yu Darvish-powered Rangers' loss to the White Sox drawing anything resembling a crowd. The game averaged 216,771 viewers on TXA21, a modest total compared to most Rangers outings this season.
Of the Olympics viewers Friday, 387,478 were in the advertiser-prized 18-to-49 age range. That's a decent but by no means great percentage.
Saturday's prime-time Olympics coverage, marking the first full day of competition, dropped to 663,862 total viewers before Sunday's popped back up to 819,666. The Saturday and Sunday night Rangers games, both on Fox Sports Southwest, respectively averaged 135,482 and 149,030 viewers to rank second in the prime-time Nielsens.
The overall top-rated TV market for the first three nights of the London Olympics is Salt Lake City, with San Diego close behind. D-FW, the No. 5 market, did not make the top 20 list on any of the three nights, at least in percentages of viewers watching. Then again, neither did the only four markets with more available viewers than D-FW -- New York, Los Angeles, Chicago and Philadelphia. Austin is the only Texas city in the top 20 -- placing 16th after the initial three nights.
NBC says that the national average of 35.8 million viewers for the first three nights is the highest in history for any Summer Olympics. The 1996 Atlanta games currently are running second.
In Friday's local news derby results, Fox4 swept the 6 a.m. and 5 p.m. competitions in both total viewers and 25-to-54-year-olds, the main advertiser target audience for news programming.
CBS11 ran first at 10 p.m. in total viewers while Fox4 took the 25-to-54 gold in a downsized three-way race. Both winning totals were sharply deflated by competing Olympics opening ceremonies coverage, which ran from 6:30 to 11 p.m.
NBC5 won at 6 p.m. in total viewers, but Fox4 again was tops with 25-to-54-year-olds.