CBS11 and Fox4 dominate Feb. sweeps while once dominant WFAA8 takes a beating
03/03/11 01:26 PM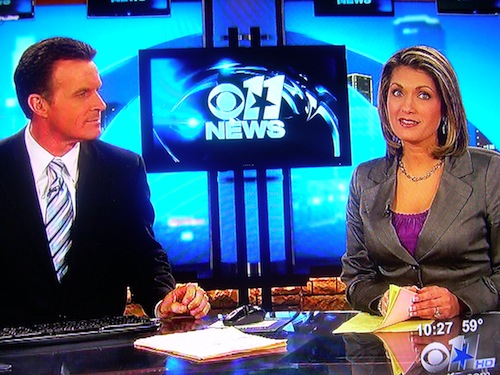 CBS11 anchors Doug Dunbar, Karen Borta were most-watched at both 6 and 10 p.m. for first time in station's history. Photo: Ed Bark
By ED BARK
CBS11 and Fox4 can celebrate big-time while NBC5 and particularly WFAA8 try to find ways to stop the bleeding.
The final February "sweeps" ratings are in, and CBS11 has achieved another milestone with 6 and 10 p.m. wins in total viewers for the first time in the station's history. The station added a 10 p.m. win among 25-to-54-year-olds, the main advertiser target audience for news programming on most stations. WFAA8 had swept the 10 p.m. competitions in the November "sweeps," but fell to a relatively distant second place this time out.
Fox4 rolled to dominant twin wins at 6 a.m. and ran first with 25-to-54-year-olds at both 5 and 6 p.m. The station's 5:30 p.m. local newscast also outdrew the competing network news programs among 25-to-54-year-olds. And the 7 to 9 a.m. portion of its
Good Day
program beat the ABC, NBC and CBS network morning programs in both ratings measurements.
Also, Fox4's one-hour 9 p.m. local newscast ran second to CBS network entertainment programming while outdrawing both ABC and NBC in total viewers and 25-to-54-year-olds.
That left a battered and bloodied WFAA8 with a lone win at 5 p.m. in total viewers. For the first time in at least the last 30 years, the ABC station was shut out in the 25-to-54 demographic that all stations agree is the key to increasing advertising revenues. WFAA8 also made more history it didn't want to make by losing at both 6 and 10 p.m. in total viewers for the first time in three decades or more.
CBS11, for its part, is still in an overall weaker position than WFAA8 among 25-to-54-year-olds, where it ran fourth in two time periods and third in another. But the station clearly has built momentum over the past two years while WFAA8 has slipped to second best in time periods it used to win with ease.
NBC5, which swept the 6 a.m. ratings a year ago with some help from NBC's coverage of the Winter Olympics, fell back to second place in both ratings measurements at that hour. The February 2010 results were skewed by 11 weekdays of Olympics action, particularly with run-overs that sucked viewers away from the 10 p.m. newscasts on Fox4, WFAA8 and CBS11.
CBS11's 10 p.m. newscasts again benefited from potent network lead-in programming on most weeknights. Clearly that helped the station, which retained a sizable percentage of its inherited audience while both NBC5 and WFAA8 increased the viewership for their 10 p.m. newscasts after getting comparatively meager network lead-ins from 9:45 to 10 p.m.
This can cut both ways, though. CBS11's 10 p.m. newscasts may be "wind-aided," in the words of WFAA8 management. But WFAA8's early evening newscasts got a jump start from the 4 p.m.
Oprah Winfrey Show
, which won the hour in both total viewers and 25-to-54-year-olds. Still, the station managed just one win in the 5 and 6 p.m. competitions, and was drubbed by Fox4 at 5 p.m. in the 25-to-54 measurement. WFAA8 also had the most-watched late night program in ABC's
Nightline
. But if many viewers went to bed with their sets tuned to WFAA8, they awoke and changed the channel to a rival station.
Also of note: Univision's Spanish language local newscast on Ch. 23 had more 25-to-54-year-old viewers at 10 p.m. than any of its English language competitors. And it ran second at 5 p.m. in that demographic.
Here are the final Feb. sweeps weekday newscast results for a four-week period that ran from Feb. 3rd to March 2nd. Year-to-year comparisons are not included because of the pronounced Winter Olympics effect in Feb. 2010.
10 P.M.Total Viewers
CBS11 -- 237,482
WFAA8 -- 214,904
NBC5 -- 167,325
Fox4 -- 141,492
25-to-54-Year-Olds
CBS11 -- 87,050
WFAA8 -- 82,265
Fox4 -- 78,320
NBC5 -- 77,357
6 A.M.Total Viewers
Fox4 -- 138,722
NBC5 -- 116,421
WFAA8 -- 72,304
CBS11 -- 61,431
25-to-54-Year-Olds
Fox4 -- 87,423
NBC5 -- 60,425
WFAA8 -- 50,360
CBS11 -- 31,844
6 P.M.Total Viewers
CBS11 -- 198,144
WFAA8 -- 170,095
Fox4 -- 148,487
NBC5 -- 131,311
25-to-54-Year-Olds
Fox4 -- 70,242
WFAA8 -- 65,551
CBS11 -- 55,050
NBC5 -- 37,032
5 P.M.Total Viewers
WFAA8 -- 148,279
CBS11 -- 130,410
NBC5 -- 126,671
Fox4 -- 120,507
25-to-54-Year-Olds
Fox4 -- 57,878
WFAA8 -- 45,482
NBC5 -- 44,084
CBS11 -- 39,486