Cuban's investment in Rentrak may give WFAA8 additional ammo in its ratings skirmish with Nielsen
09/28/11 04:26 PM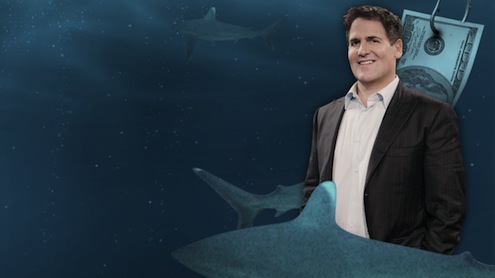 Dallas Mavericks/HDNet owner Mark Cuban will be a Shark Tank regular when the show returns with new episodes later this season.
ABC photo
By ED BARK
WFAA8's concerted push for the new, alternative TV ratings system Rentrak has a notable booster in Mark Cuban.
The Dallas Mavericks/HDNet owner, who will be a regular on the ABC investor series
Shark Tank
this season, confirmed Tuesday that he has a financial stake in Rentrak -- and lately has upped the ante.
"I think they are the future of national and local audience measurement," Cuban said in an email to unclebarky.com. "And I increased my investment to 8.7 percent of the company. I have been an investor for four years, maybe longer."
As
detailed in a July post
, ABC affiliate WFAA8 has soured on Nielsen Media Research and so far is the lone North Texas TV station to embrace Rentrak as a more accurate barometer of TV viewership. WFAA8's ratings are much stronger, based on data from Rentrak's 900,000 set top boxes in homes subscribing to either the Dish satellite network or AT&T Uverse.
Nielsen in contrast reports D-FW ratings based on 600 viewing area homes equipped with its scientifically placed "People Meters."
WFAA8's network-owned rivals also generally see ratings increases with Rentrak, but not nearly to the degree that the Belo-owned ABC affiliate does.
In an earlier interview with unclebarky.com, WFAA8 president and general manager insisted that he's "not touting Rentrak simply because we look better. I want something that's stable, predictable and has a large enough (audience) sample . . . If the entire market were to convert to Rentrak and we dropped to No. 3, I would have more confidence that there's something wrong with the newscast than I would under the Nielsen sample."
Devlin reacted to Cuban's support of Rentrak with this one-liner Wednesday: "I would not bet against Mark Cuban when it comes to technology and investments."