CBS clearly has upper hand in stalemate with Time Warner (updated)
08/09/13 12:27 PM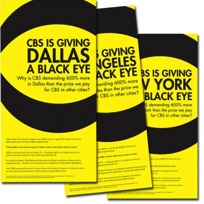 By ED BARK
@unclebarkycom
CBS can afford to play a waiting game. Time Warner cannot -- particularly in the Dallas-Fort Worth viewing area.
One doesn't have to take sides to realize that the clock is ticking on the nation's second largest cable operator (a reported $7.65 billion in revenues over the past year) in its battle against the nation's most-watched television network ($3.65 billion in revenues over the same period).
As the Time Warner blackout begins its second week, let's look at the cable giant's predicament.
No one in their right mind (presumably) is going to switch or sign on to Time Warner because it DOES NOT have CBS. Why in the world would you do that?
But people will find a way to watch CBS -- whether pulling it in old-school via an antenna or converter, dumping Time Warner or going to a non-Time Warner venue to see their favorite programming.
The situation is particularly acute in D-FW, where Time Warner has roughly 400,000 subscribers among the just over 3 million being affected nationwide. For sports fans, it's a virtual Armageddon this weekend.
On Friday, August 9th, the Dallas Cowboys' second pre-season game at Oakland is being carried on CBS11, starting at 9 p.m. Time Warner customers will be blocked from watching it, and the game also will be blacked out on the NFL Network in D-FW to protect the local station's payment for home market exclusivity.
On the same night, the red-hot, first-place Texas Rangers begin a four-game series at Houston. CBS11's sister station, TXA21, has the Friday game. But it, too, will be a no-show because both stations are properties of the CBS network. (All of CBS' owned-and-operated stations are subject to being blacked out in Time Warner homes, but the cable giant's main penetrations are in three markets -- New York, Los Angeles and D-FW.)
The final two rounds of golf's last major championship -- the PGA -- also are being carried by CBS. Consider them blacked out if you're a Time Warner subscriber. Plus, for the second straight Sunday night, Showtime's
Dexter
and
Ray Donovan
will be unavailable in Time Warner homes. And you can't rope in a premium cable network with an antenna.
Most observers expect Time Warner and CBS/Showtime to resolve their impasse before the NFL's regular season kicks off. But in Cowboys-crazy D-FW, the team's last three pre-season games -- against Arizona, Cincinnati and Houston -- also are being carried by CBS11. Blackout, blackout, blackout unless an agreement is reached.
Simply put, CBS wants Time Warner to pay more money to carry its programming. The network reportedly is asking for an increase from $1 to $2 per subscriber each month, although Time Warner keeps saying that CBS is demanding an "outrageous" 600 percent increase. ESPN gets more than $5 a month per subscriber from Time Warner, according to industry reports.
Time Warner says it wants to hold down monthly cable bills by thwarting greedy over-the-air broadcasters like CBS. Excuse me while I double over with laughter. In Los Angeles, benevolent Time Warner is on the receiving end of a class action suit. Why? Because it bought the TV rights to both the Los Angeles Dodgers and Los Angeles Lakers, took them off the CBS-owned KCAL-TV, put them on its own channels and now is charging $4 extra per month for each of these channels. Those fees are added to monthly cable bills whether subscribers watch the games or not.
Time Warner responds that CBS "themselves announced in May that they were moving the Final Four to cable."
Well, not quite. Under a deal with TBS, CBS will still have college basketball's final championship game in 2014 and 2015. After that, the two networks will alternate the Final Four, with TBS getting the rights in even-numbered years and CBS in odd-numbered years. Beyond that, CBS didn't create a separate network for the Final Four. TBS in fact is the granddaddy of cable networks, and has an ample programming menu beyond basketball.
CBS' summertime programming is more potent than usual this time around, with
Under the Dome
joining
Big Brother
as one of the hot weather season's star attractions. Still, things may not really heat up in the Time Warner-CBS standoff until the NFL season begins, followed soon thereafter by the start of the new fall TV season.
By that time, Time Warner may well find itself begging CBS to make a deal, any deal. The network already holds most of the cards. And by early September they'll all be aces.
Email comments or questions to:
unclebarky@verizon.net