Local Nielsen ratings snapshot (Thurs., March 19) -- Obama a smash on Tonight
03/20/09 09:42 AM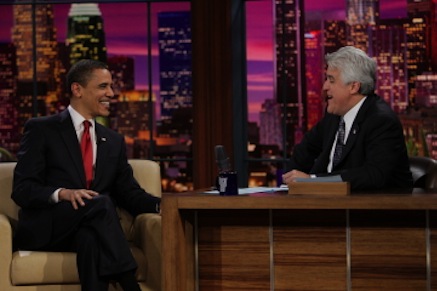 By ED BARK
Downtrodden NBC got a big boost Thursday from President Obama's history-making appearance on Jay Leno's
Tonight Show
.
No sitting president had ever guested on a late night talk show before. And D-FW responded in a big way, with 305,578 total viewers staying up late to catch the Obama-Leno sitdown.
That tied WFAA8's 10 p.m. newscast as Thursday's most-watched program. In contrast, Wednesday's
Tonight Show
had a comparatively paltry 106,288 viewers.
CBS' opening day of the NCAA basketball tournament had its biggest audience for the late night matchup between victorious Oklahoma and Morgan State (179,361 viewers), which gave way to other games after becoming a blowout. Texas' win over Minnesota earlier Thursday night averaged 126,217 viewers.
Basketball was beaten all night by rival entertainment programming.
At 7 p.m., Fox's
Bones
had the most total viewers (199,290), but NBC's combo of
My Name Is Earl
and
The Office
won among advertiser-craved 18-to-49-year-olds.
ABC's doctor dramas,
Grey's Anatomy
and
Private Practice
, ruled the 8 to 10 p.m. hours in both ratings measurements.
In the daily local news derby, WFAA8 had the most total viewers at 10 p.m. in a downsized three-way competition. But NBC5 won among 25-to-54-year-olds, the main advertiser target audience for news programming.
The Peacock swept the 6 a.m. competitions, handily beating runnerup Fox4. The pitched battle for third place went to CBS11, which knocked WFAA8 back into the fourth spot after the two stations ran in the reverse order on Wednesday.
WFAA8 ran the table at 6 p.m., and also had the most total viewers at 5 p.m. Fox4 was tops at the earlier hour among 25-to-54-year-olds. CBS11's 6 p.m. newscast was preempted by basketball.