Strangis in a strange land as the principal star of Hospitality Suite
08/19/16 12:07 PM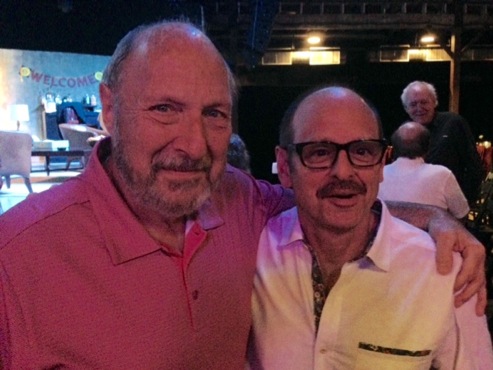 Age-old sports voices: Norm Hitzges, Ralph Strangis. Photo: Ed Bark
By ED BARK
@unclebarkycom on Twitter
Get set for a torrent of dialogue, the bulk of it from Ralph Strangis, if you're among those in the audience for
Hospitality Suite
.
It's something of a latter-day meld of
Death of A Salesman
and
Glengarry Glen Ross
, with the former longtime voice of the Dallas Stars hockey team loudly emoting like crazy as industrial lubricant salesman Larry Mann.
A Thursday night preview performance of the male-centric play by Roger Rueff drew a sizable contingent of sports radio personalities, including Norm Hitzges (pictured with Strangis above), Brad Sham, Chuck Cooperstein, Bob Sturm, Tim Cowlishaw, Jeff "Skin" Wade and Corby Davidson. An open bar and free post-play food didn't hurt a bit.
Originating from the 26th floor hospitality suite of a Wichita, Kansas hotel, the play focuses almost exclusively on three salesmen played by Strangis, Gary Walters (as Phil Bustamonte) and Brent Crable (as Bob Walker). Khalid Beard also is seen briefly but memorably as drunken hanger-on Keith Brewster.
Strangis' Larry is the center ring antagonist, whether sparring with his beaten-down sales partner Phil or hectoring the pious young Bob about both his religious beliefs and his shortcomings as a deal-closer. He somehow manages to memorize enough lines to fill a full season of hockey games. For the most part it's an effective, full-barreled performance, although a little modulation in spots might help to richen the texture.
"I wanted to be in this show and play this part, so I bought the rights and cast myself in the damned thing," Strangis says in the
Hospitality Suite
play booklet. "I didn't have all that much else going on so what the hell."
Strangis voluntarily left the Stars in April of 2015 after a quarter-century of ice and puck. He's since been roaming the world on his own terms while also writing occasional columns for
The Dallas Morning News
and lately completing an undergraduate degree at the University of North Texas.
Hospitality Suite
also was adapted into a 1999 feature film,
The Big Kahuna
, starring Kevin Spacey, Danny DeVito and Peter Facinelli. The new Dallas stage version continues on Aug. 19, 20, 25, 26 and 27 in the South Side Music Hall at Gilley's Dallas, 1135 St. Lamar St.
For more details and ticket information,
go here
.
Email comments or questions to:
unclebarky@verizon.net