CBS11 tabs Elizabeth Dinh for early morning shift
12/10/12 03:16 PM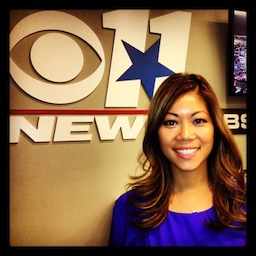 By ED BARK
@unclebarkycom
Elizabeth Dinh, a University of Texas-Arlington grad who most recently worked at Seattle's KOMO-TV, has joined D-FW's CBS11 as a full-time early morning reporter. She started last week after two years with KOMO.
Dinh replaces Melissa Newton, who left CBS11 in late November to
join her husband
in Oklahoma City, where he's chief meteorologist for KOCO-TV.
In January of this year, Dinh made news with her
self-publicized search for a kidney donor
after being diagnosed with IgA nephropathy. At the time, her kidney function had dropped to 13 percent, according to reports.
"While I can still function daily, my doctors and I know that one day my kidneys will stop working," Dinh said. "I'd like to receive the transplant before my kidneys fail."
On her Twitter page, Dinh says she eventually received a kidney in June from her husband, Kevin.
Her Facebook page says she was born in Irving and raised in Arlington and Grand Prairie. Dinh worked for KAMR-TV in Amarillo and WFTS-TV Tampa, FL before joining KOMO, where she also was assigned to early mornings. In 2003 she was crowned Miss Asian American Texas. Her parents came to the United States in 1975 during the fall of Saigon.
Here's a brief clip of Dinh setting up one of her stories for KOMO.
unclebarky@verizon.net