This just in: a night in the lives of D-FW's late night newscasts (Thurs., Feb. 21)
02/22/08 01:37 PM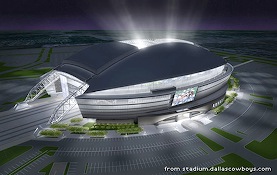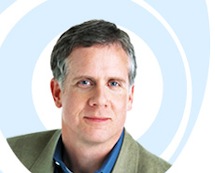 By ED BARK
Investigator
Brett Shipp
's hammer-and-tong approach to the Dallas Cowboys' new stadium may not be entirely fair. It
is
fun to watch, though.
The WFAA8 gumshoe sought to give owner Jerry Jones another wedgie Thursday night by treating viewers to an inside look at "the posh extravagance portrayed in the sleek animated renderings" that depict the finished product. It's his third February "sweeps" tackling of the still incomplete edifice.
Shipp is "the only reporter taking a critical look at the project," anchor
Gloria Campos
told viewers before his "How 'Suite' It Is" story likely made Jones want to strip him naked, coat him in silver and blue, towel-snap him and then make him run laps around Flozell Adams' waistline.
"Fans want premium service," Cowboys spokesman Greg McElroy told Shipp before he donned a hardhat and toured the unfinished concrete cavern in Arlington. The place is so massive that top-row seats are 180 feet above field level, he said. To illustrate, Shipp stood atop the WFAA TV tower and peered down at the company parking lot shared by WFAA8 and
Dallas Morning News
personnel. It's romantic to think that a big oil spot from my old Ford LTD might still be visible from even those heights.
Shipp contrasted that nose-bleed view of the game with Jones' under-construction personal suite, which at 30,000 square feet is the length of a football field, he said. Other football palaces, such as the new Reliant Stadium in Houston and the yet-to-open Indianapolis Colts' home field, are much cheaper than the roughly $1.2 billion that Jones and Arlington taxpayers are spending, Shipp said.
And of course, Houston fans say they have all the amenities at a fraction of the cost.
Shipp also flashed footage of the Green Bay Packers' Lambeau Field, where hardy Wisconsin natives like myself are willing to freeze their asses off for the privilege of watching the Green and Gold. In comparison, the Cowboys' Taj Mahal is hermetically sealed. The team's fans will "never suffer the indignity of discomfort," said Shipp, whose disdain almost matched Martha Stewart's feelings about skim milk.
Jones still won't talk to him, said Shipp, who asked the anchors at the end of his report if they'd like to know the takeoff point of Jones' new private elevator. He then plugged the 6 a.m. hour of WFAA's Friday
Daybreak
, where he planned to tell all. That explored new promotional vistas in the ratings war between WFAA8 and Fox4's
Good Day
, which are locked in a virtual first-place tie with just four weekdays to go in the sweeps.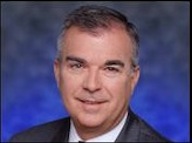 CBS11 investigator
Robert Riggs
also zeroed in on a favorite target -- the alleged donor-abusing hierarchy of UT Southwestern Medical Center, led by president Kern Wildenthal. The state university
fired back
at Riggs and CBS11 Friday in a lengthy rebuttal posted on its Web site. Riggs' reporting, it said, "demonstrated the most negative attributes of investigative journalism" and also was flatly untrue.
Combing through public records, Riggs detailed what anchor
Doug Dunbar
termed a series of "eye-popping discoveries." Some of donors' "hard-earned dollars" were being spent not on medical research, Riggs said, but on "expensive Belgian chocolates," gourmet popcorn (to the tune of $30 grand), caviar, repeated "business lunches" at a Mexican restaurant and tulips ($13,000 worth).
Much of this came in the form of gifts to donors as enticements to give more. But Riggs found two veteran consumer watchdogs who said it's uncalled for.
"They strike me as indulgent," said one.
"It's a bloody waste of money," said the other.
Riggs tried to corner Wildenthal outside the Mexican restaurant where he regularly has "business lunches" with fellow hospital officials.
"This is not an appropriate time," he told Riggs, who has yet to land an interview with him. CBS11 even went to the extent of having hidden cameras inside the restaurant to capture Wildenthal and friends eating. They also could be overheard discussing their golf games and other leisure activities instead of business, Riggs said.
Hospital officials would be wiser to just sit down with Riggs and have it out with him. If they think this is a baseless vendetta or a sweeps stunt, then they should tell him so on-camera. Riggs at times does seem to take undue delight in skewering his prey. So does Shipp for that matter. But it's always easier to take pot shots when your targets won't talk.
And In Other News . . .
All four major TV news providers sent reporters to Austin for live dispatches on Thursday night's Hillary Clinton-Barack Obama debate.
NBC5's
Grant Stinchfield
seemed to think he was Chris Matthews. "Most people agree they both fared very, very well," he began. "But that 's a problem for Clinton because she came into the debate needing to throw that knockout punch. And that she didn't do."
It took almost an hour for Clinton to "fire a shot across the bow," in Stinchfield's view. He again interjected himself at report's end, telling viewers, "Well, there's speculation the two were acting so nice to each other because they may end up on the same ticket. I think it may be they just respect each other."
CBS11's
Tracy Rowlett
stumbled out of the block, almost drawing a blank in trying to say Barack Obama's full name. He got half of it out (the Obama part) while telling viewers that Hillary Clinton probably didn't succeed in any mission to "pull herself away" from the frontrunner.
Rowlett was joined by colleague
Jack Fink
who hit the post-debate "spin room" for some less than pulsating quotes.
"He did terrific," said an Obama rep. "She did great," said a Hillary advocate.
Fox4's
Shaun Rabb
, in his Scoops McDeadline fedora, said he had been right in telling viewers on an earlier newscast that this would be a "cerebral drama." As for a clear-cut winner, "in this observer's opinion, no," he concluded.
Brad Watson
of WFAA8 had a comparatively straight-ahead report after first noting that "Hillary Clinton needed to strike some sharp contrasts tonight to Obama and his momentum. After a pleasant start, she drew some sharp lines of difference."
***
WFAA8's
Gary Reaves
had a very nice story on a Millbury, Mass. group that calls itself The Lord's Builders. They've journeyed to Oak Cliff to renovate a church that thieves had burned down way back in 1995 to cover their tracks. Its pastor had died before being able to bring his church back to life. It remained largely in disrepair until the volunteer Good Samaritans arrived.
***
Fox4 consumer reporter
Steve Noviello
gave viewers an informative look at how complimentary "companion certificates" offered by airlines are often anything but bargains when you first must pay a premium price for a single ticket on eligible flights.
***
NBC5 anchor
Mike Snyder
copped to being a snorer and invited viewers to read his
blog
after
Brendan Higgins
' story on a device that supposedly can work wonders. He's been blogging quite a bit lately. Tell me about it.
***
CBS11 sports anchor
Babe Laufenberg
got off a nifty little line after dispatching his two principal staffers to New Orleans for the Dallas Mavericks and Surprise, AZ for the Texas Rangers' spring training.
"Here's how you keep your job as the main sports anchor," he said. "You send everyone else out of town."
***
Finally, Fox4's nightly "Viewers' Voice" segment included a bizarro suggestion.
"
Steve Eagar
needs to shave his ears," said a fan of the newscast. "He has a halo this evening."
Eagar mugged a tad for the camera. Yes, Steve, these are your viewers.