From super-tense to strikingly easy: 6-run Ranger 9th turns pulse-pounder into walk in the park
10/18/10 10:46 PM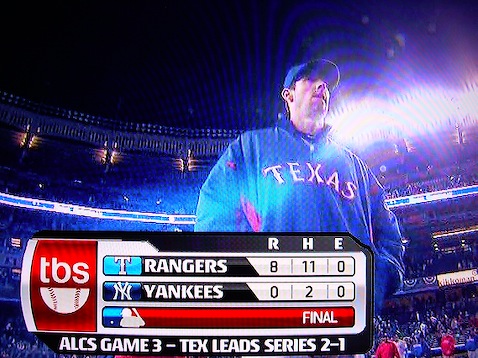 Hitting his stride again. Cliff Lee turns in a third majestic post-season performance on baseball's grandest stage. Photo: Ed Bark
By ED BARK
Better games have been pitched in the post-season. But not all that many. And considering the longtime doormat team he represents -- and the mighty team he faced on their home turf-- this one might rank somewhere in the all-time top 20.
Cliff Lee's eight shutout innings, in which he yielded two cheap singles and struck out 13, kept the Texas Rangers clinging to a never-safe 2-0 lead built on Josh Hamilton's first-inning home run. In the face of a precariously high pitch count, Lee stood ready to pitch the ninth inning as well. But the Rangers instead sucked the suspense out of this pivotal ALCS Game 3 by plating six runs in the top of the inning against a cobra suddenly turned garden snake.
The New York Yankees bullpen caved the way the Rangers' had in Game 1. So no Lee was necessary. Instead, kid closer Neftali Feliz got some valued experience in the Big Apple while a once roaring crowd went quietly and rapidly into the night. Feliz whiffed another pair of Yankees, including former Ranger Mark Teixeira to end the game and bring the grand total to 15.
TBS' two ex-pitcher commentators, John Smoltz and Ron Darling, were suitably awed by Lee's command of pitches and ability to mix them up in the face of an at times exceptionally tight strike zone by umpire Jim Reynolds. Lee's mound opponent, Andy Pettitte, was impressive as well. He has more post-season wins -- 19 -- than any pitcher in history. And save for Hamilton's table-setting home run, he matched Lee for seven innings of scintillating baseball.
This was the kind of game that gave you the chills on a number of fronts. The Yankees always seemed poised to strike, and their history said they would. But Lee kept conquering the best team money can buy. And in the end, the Rangers romped to a lopsided win that in a way cheated fans out of what could have been a dramatic, knuckle-gnawing climax. But that's OK. The first eight innings were nerve-wracking enough.
The win assures the Rangers of a return to Arlington if they can't close the Yankees out in New York. It's improbable that they'll win the next two. But can you believe what this team is doing? Even Cowboys owner Jerry Jones might want in on the action if a World Series actually comes to Arlington. Has he ever even been inside the little shack across the street from his gargantuan palace?
Not to be mean-spirited, but now's not the time to let him in :).