Local Nielsen ratings snapshot (Fri.-Sun., Dec. 11-13) -- Christmas shopping, balmy day and another December loss help hold down Cowboys' crowd
12/14/09 10:17 AM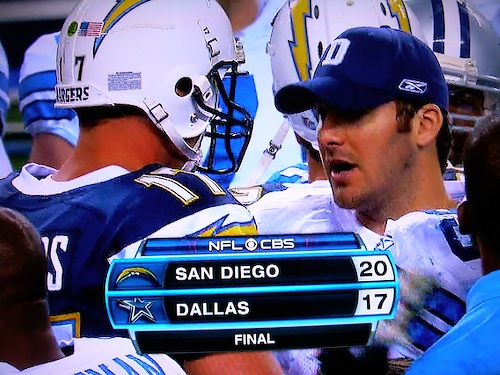 Cowboys QB Tony Romo officially hates December. Photo: Ed Bark
By ED BARK
Sunday's Dallas loss to San Diego at Jerry's Palace proved to be a turnoff in more ways than one.
The Cowboys of course dominated the day's ratings as always. But a D-FW crowd of 1,214,748 for the CBS telecast was one of the season's smaller ones on an unseasonably warm day in the heart of the Christmas shopping season. The opening day Sept. 13 road win at Tampa Bay is still this year's small fry, though, with 1,065,449 viewers on Fox. (
Note:
minor adjustments in some previously posted crowd totals have been made after Nielsen increased its D-FW population estimates earlier this fall.)
NBC's
Sunday Night Football
dominated the prime-time ratings, with 570,049 watching the Eagles beat the Giants in a high-scoring, largely defenseless shootout. In the day's early afternoon matchups, the Saints and Falcons on Fox (454,682 viewers) outdrew the Vikings-Bengals on CBS (271,452 viewers).
Saturday night's annual showing of
It's A Wonderful Life
on NBC showed its age by luring a relatively skimpy 74,649 viewers. It ran fourth overall in the broadcast universe while also being outdrawn by the Mavericks-Bobcats game on Fox Sports Southwest.
NBC's new edition of
Saturday Night Live
had the day's biggest audience, with 217,162 viewers.
In Friday's local news derby results, WFAA8 topped the field at 10 p.m. in both total viewers and 25-to-54-year-olds, the main advertiser target audience for news programming.
Fox4 scored twin wins at 6 a.m., knocking NBC5 from its customary No. 1 spot. The 7 to 9 a.m. portion of its
Good Day
then beat the three network morning shows in both measurements, including the last
Good Morning America
for Diane Sawyer before she begins anchoring ABC's
World News
on Dec. 21st.
WFAA8 won most of the early evening battles, running the table at 6 p.m. and also taking the 5 p.m. gold in total viewers. Fox4 ran first at 5 p.m. with 25-to-54-year-olds.