Heavy lifting: CBS11 poaches on Fox4 story
01/14/09 10:59 AM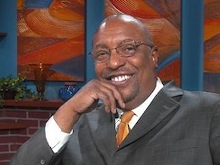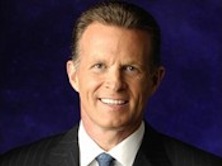 Fox4 reporter Shaun Rabb; CBS11 anchor Doug Dunbar
By ED BARK
Ripping off a rival station's story is an all too common practice in most TV markets. But CBS11 should get at least 10 days in ethical purgatory and a hot lead enema for what it did to Fox4 Tuesday night.
Reporter Shaun Rabb led his station's post-
American Idol
9 p.m. newscast with "a story you'll see only on Fox4," anchor Steve Eagar told viewers. It was
Rabb's jailhouse interview
with Charles Payne, who admitted to shooting and killing Dallas police officer Norman Smith last week but claimed he was acting in self-defense.
Rabb asked all the right questions, including why Payne had a gun and whether there were drugs in the house at the time. Payne's rambling answers spoke volumes.
Then along came CBS11, which displayed four printed quotes next to Payne's picture in a story that ran during the opening five minutes of the station's Tuesday, 10 p.m. newscast.
Anchor Doug Dunbar played the front man, telling viewers, "In an interview with a local television station, Payne said that when someone knocked at his door that night and forced it open, he reacted and shot because he felt his life was in danger."
CBS11 obviously went to considerable lengths in lifting, re-packaging and then prominently playing Rabb's story. In that context, generically citing a "local television station" is simply inexcusable. Either ignore the story, give specific credit where it's due or try to get your own interview.
In this instance, Rabb's enterprise and legwork were simply too much for CBS11 to handle. It was easier to "re-purpose" his efforts and then let CBS11 viewers guess where they came from.