Local Nielsen ratings snapshot (Fri.-Sun., Sept. 17-19) -- there's no V in Cowboys; instead it's another Big D
09/20/10 10:24 AM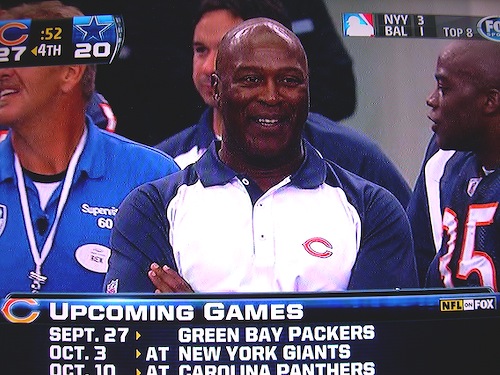 Oh happy day for Chicago Bears coach Lovie Smith. Photo: Ed Bark
By ED BARK
The winless Dallas Cowboys drew another mega-crowd Sunday, with 1,302,970 D-FW viewers enduring the high noon home game on Fox.
That's down from the 1,574,422 who experienced the Cowboys' bumbling
Sunday Night Football
loss to Washington. But one million-plus viewers is still a smasheroo by any standard.
On Fox's post-game rub-it-in show, panelist Howie Long had the most cutting observation. "Jerry can build the Field of Dreams," he said, referring to owner Jerry Jones' many-splendored Cowboys Stadium. "Unfortunately, Jimmy, Troy, Emmitt and Michael aren't coming out of the cornfield."
After their improbable 27-20 win over Dallas, the 2-0 Chicago Bears will host a showdown game on ESPN's
Monday Night Football
with the 2-0 Green Bay Packers. Meanwhile, the Cowboys take their horror show on the road for a do-or-die game against the 2-0 Texans. Houston rallied from a 27-10 second half deficit Sunday to defeat the same Redskins who helped make Dallas look like dung in the season-opener. So that doesn't inspire a lot of confidence in a Cowboys team that was a prohibitive favorite to beat the Bears but will be an underdog in Sweat City.
Bonus coverage of Houston's OT win in Washington attracted 536,118 viewers early Sunday evening on CBS. An overall average of 522,545 viewers then watched the Colts rout the Giants in the "Manning Bowl" (Peyton vs. Eli) on NBC's
Sunday Night Football
.
Saturday's ratings also were paced by football, with 536,118 viewers witnessing Texas beat Texas Tech on ABC.
In Friday's local news derby results, WFAA8 won at 10 p.m. in both total viewers and 25-to-54-year-olds, the main advertiser target audience for news programming on most stations.
Fox4 likewise ran the table at 6 a.m. while CBS11 took the 6 p.m. gold in total viewers and tied Fox4 for the top spot among 25-to-54-year-olds.
The 5 p.m. booty was split between WFAA8 in total viewers and Fox4 in the 25-to-54 demographic.