Poker game turns deadly, with CBS11 photographer apparently shooting in self-defense
06/17/10 12:22 PM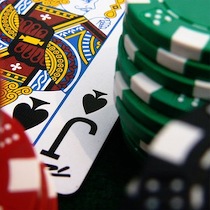 By ED BARK
CBS11 photographer Jerome "Jay" Johnson, whom police believe was acting in self-defense, shot and killed a would-be robber shortly after midnight Monday during a poker game in a Mesquite apartment.
The shooting occurred after the alleged intruder shot one of the players, 35-year-old Tracy Moore, who also is deceased.
CBS11 is reporting the story -- and identifying Johnson as a station employee -- on its
cbs11tv.com
web site under the headline "Would-Be Robber Shot Dead At Mesquite Party."
According to Lt. Bill Hedgpeth, the gunman at first wanted to join the poker game, but then pulled a gun and demanded money from the players.
When he fired at the players, Johnson pulled a gun and fatally shot the man, who was identified as 28-year-old Darvis Dervon Young in
myfoxdfw.com's
brief report on the shootings.
Hedgpeth said that Johnson, 34, is licensed to carry a concealed handgun and that "from all appearances at this point it does appear to be self-defense."
Johnson was questioned and released, and police have no plans to charge him at this time, Hedgpeth said. But the case will be referred to a grand jury.
"We are relieved that our employee was unharmed, but we consider this to be a personal matter and have no other comment at this time," CBS11 communications director Lori Conrad said via email Thursday.
The accounts on myfoxdfw.com and wfaa.com do not mention the CBS11 connection. No story on the shootings could be found on either nbcdfw.com or the33tv.com.