The Ticket's first "Great Game" is no walk in the park (Well, actually it was for awhile)
05/09/08 09:37 AM
Picture book swing or rusty gate on a broken hinge? Photos: Ed Bark
By ED BARK
FRISCO -- At first -- and especially in the second inning -- The Ticket radio's "Great Game" proved to be anything but.
A 10-to-5 score built in large part on a total of 12 walks, four wild pitches and two hit batters seemed to promise a long, redundant Thursday night for Team Musers, Team Hardline and the 4,000 or so fans at Dr. Pepper Ballpark.
Hardline pitcher Corby Davidson led the parade with a second inning stint that featured six walks, three wild pitches and two plunks before he trudged off without recording a single out.
But then came the unexpected. Pitchers started finding the plate, particularly game MVP Dan McDowell of the Musers. Fielders started catching the ball, particularly centerfielder Donovan "Donny Do" Lewis of the Hardliners. The seven-inning game accelerated, and the pre-game prophecy of the Musers' George "Jub-Jub" Dunham came to pass.
"We're bad," he said. "But they're really bad."
All in all, though, not bad. Team Musers won, 13 to 10, in a game that ended up with more total hits (16) than errors (11). And six walks in the final five innings is miserly when compared to a dozen in the first two.
The first such "Great Game" benefited the Frisco Roughriders charitable foundation and featured all of the station's prominent on-air personalities except Norm Hitzges.
But Big Norm did the over-the-air announcing, assisted by Dallas Mavericks play-by-play man and Ticket alum Mark Followill.
Followill had the line of the night. "This ain't like a Maverick broadcast," he said. "I can rip people now."
MVP McDowell ended up pitching two scoreless innings and walking just one batter. Lewis, one of his two broadcast buddies on The Ticket's afternoon BaD radio show, paced the losing Team Hardline by making five putouts in centerfield, recording the game's first two runs batted in and reaching base three of four times.
Bob Sturm, the B in BaD radio, had the historic first of many stolen bases in the inaugural game. He also scored its first run, giving Team Hardline a lead it held until that disastrous 10-run second inning. So put BaD radio's trio in this game's Hall of Fame, even though the teams were named for the more prominent morning and afternoon drive shows.
McDowell was characteristically humble during a post-game interview.
"It's a team game," he said. "I wish I could give it to the team. But I can't. It's mine."
Your friendly correspondent left the park with Hitzges' crumpled official score sheets in hand.
Let the record show that Norm finally wearied of the task after Lewis walked in the top of the seventh during Hardline's last at bat. He didn't bother to record catcher Michael Gruber's climactic groundball to shortstop, which was turned into a forceout at second base. Gruber then was tossed out at second himself after an errant throw got past the first baseman.
The crowd roared, perhaps partly in relief, while Team Musers members triumphantly threw their gloves in the air. Stoic Mike Rhyner, self-appointed captain of the Hardliners, looked embittered in defeat. Then again, his grim game face is pretty much his only face. So let's not jump to conclusions.
Here's a picture book look at a storied night in Ticket history. Or something like that.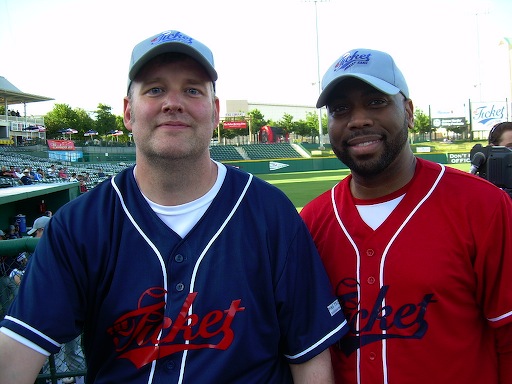 Future stars of the game Dan McDowell and Donovan Lewis.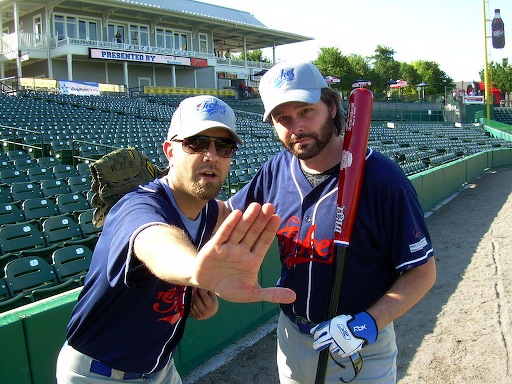 "Skin" and Gordon Keith get ready for game action.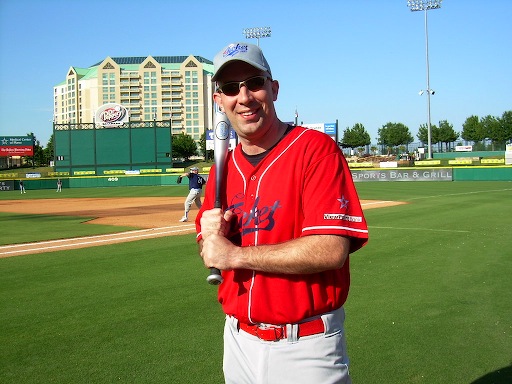 Bob Sturm gets a grip in hopes of becoming a Topps card.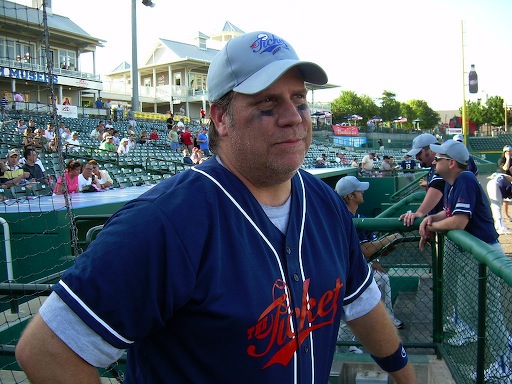 A pensive George Dunham knows what lies ahead.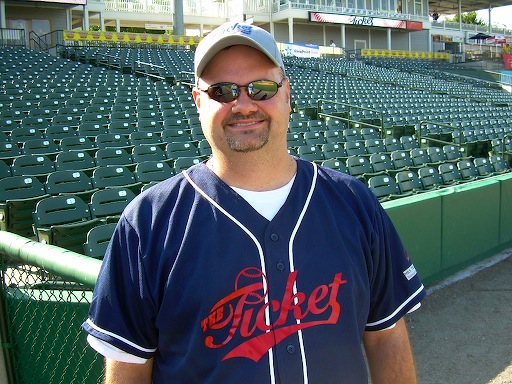 It might be, it could be, it is -- congenial slugger Rich Phillips.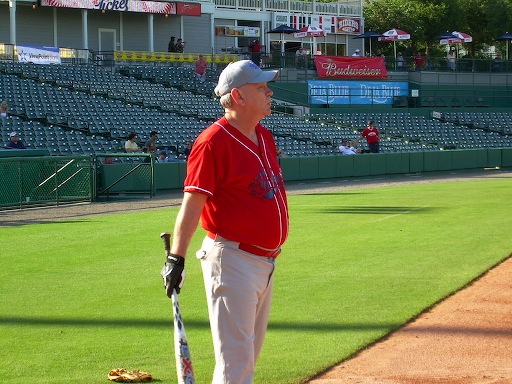 Hardliner Mike Rhyner has a gut feeling this ain't gonna be easy.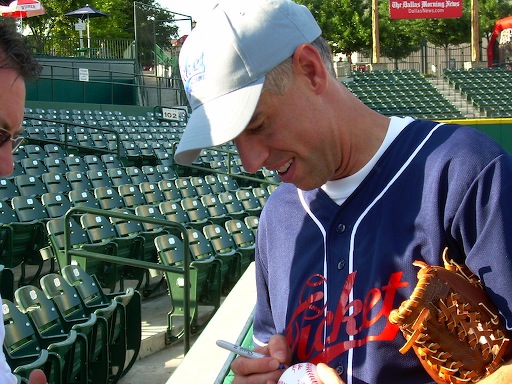 Opening night pitcher Craig "Junior" Miller signs a new contract.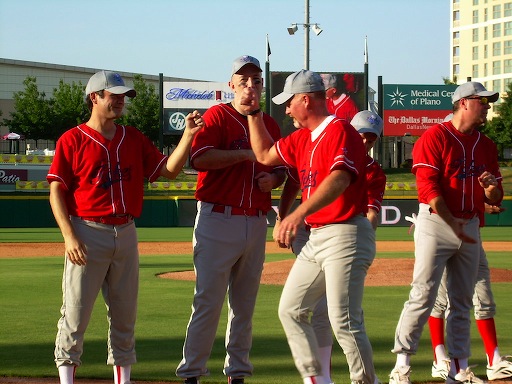 Rangers fave Rusty Greer prepares to manage Hardliners to defeat.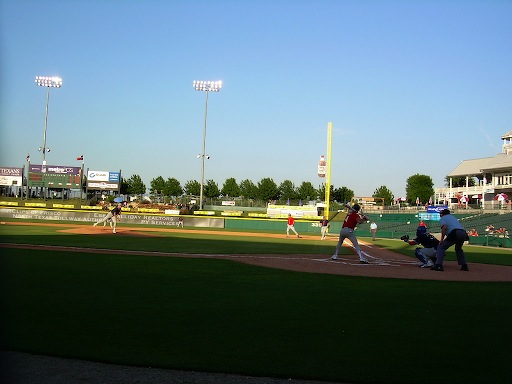 Play ball! Junior Miller aims toward home in first inning.