Local Nielsen ratings snapshot (Fri.-Sun., Oct. 23-25) -- big win and more mega-ratings for Cowboys
10/26/09 09:25 AM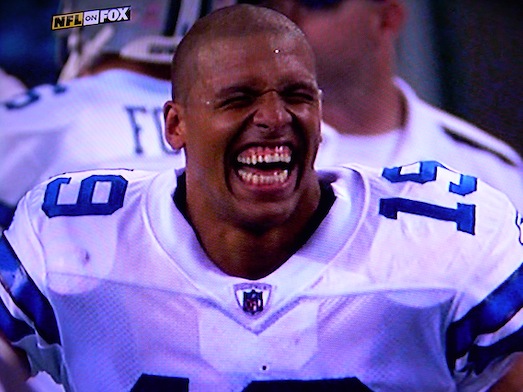 Gums up! Miles Austin celebrates another big day. Photo: Ed Bark
By ED BARK
The Cowboys' impressive win over Atlanta Sunday rang up another ratings bonanza for Fox, with 1,368,458 D-FW viewers partaking.
That put the game in the No. 3 spot on the regular season dance card, trailing Cowboys-Giants (1,700,608) and Cowboys-Broncos (1,441,531). All six regular season games have topped the one million mark, with the low point on opening day, when 1,042,951 viewers watched Dallas defeat Tampa Bay.
For the Falcons game, 667,687 viewers were advertiser-coveted 18-to-49-year-olds. That's nearly half the total audience, which is another impressive feat.
The Cowboys' warmup act, Minnesota vs. Pittsburgh on Fox, averaged a hefty 604,451 total viewers. In prime-time, Arizona's win over the Giants drew 425,152 viewers on NBC's
Sunday Night Football
.
Over on Fox, Sunday night's competing Game 6 of the Yankees-Angels Al championship series averaged 239,148 viewers to trail both football and ABC's 8 to 10 p.m. lineup of
Desperate Housewives
and
Brothers & Sisters
. But baseball beat both ABC soaps among 18-to-49-year-olds. The Yanks closed out the Angels and will face Philadelphia Wednesday in Game 1 of the World Series on Fox.
Saturday's attractions were led by Texas' rout of Missouri on ABC's
Saturday Night Football
. The game averaged 259,077 total viewers.
On Friday, WFAA8's homegrown 6:30 p.m.
Behind the Curtain
special on the new AT&T Performing Arts Center drew 73,073 viewers to run fifth in the time slot. The top draw,
Wheel of Fortune
on CBS11, had 139,503 viewers. Still,
Behind the Curtain
had more viewers than the two ABC series that followed it,
Supernanny
(39,858 viewers) and
Ugly Betty
(59,787 viewers).
At 9 p.m., NBC's
The Jay Leno Show
had a smallish 126,217 viewers, still good enough to tie for first at that hour with CBS'
Numb3rs
. Leno slipped to a fourth place tie with
Numb3rs
among 18-to-49-year-olds, with TXA21's closing hour of the Mavericks-Rockets pre-season game leading the way.
Over on cable, USA network's 9 p.m. premiere of the critically praised
White Collar
drew 59,787 total viewers while also lagging in the 18-to-49 demographic.
In Friday's local news derby festivities, WFAA8 ran the table at 10 p.m. with wins in both total viewers and 25-to-54-year-olds, the principal advertiser target audience for news programming.
NBC5 continued its winning ways at 6 a.m., racking up two golds for the eighth straight weekday.
Early evening results again were split. WFAA8 won in total viewers at 6 p.m. and NBC5 did likewise at 5 p.m. Fox4 ran first at both hours among 25-to-54-year-olds.