Anchor Debbie Denmon leaves WFAA8 (updated 3:30 p.m. Wednesday with new comments from Denmon and a no comment from WFAA)
07/18/12 12:51 PM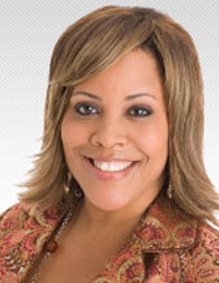 By ED BARK
@unclebarkycom
Anchor Debbie Denmon, who joined WFAA8 in October, 2000, announced on her Facebook page Wednesday that she's leaving the Dallas-based station after a turbulent tenure marked by a discrimination suit that she lost last year.
She said the station did not renew her contract. "So effective immediately, today is my last day with the station," Denmon said. "God closes one door and will surely open another!"
The station quickly removed her bio Wednesday from its website, wfaa.com. Vice president of program development Dave Muscari later said via email: "As you know we are fiercely protective of our employees' privacy. Thus we do not comment on personnel issues."
Reached by telephone Wednesday afternoon, Denmon said, "I actually feel a sense of relief, but I promised my attorney that I would a wait a bit to give a full interview. I'm fine. They basically called me in this morning and said they were not going to renew my contract."
Denmon is represented by Dallas attorney Michael Coles, who currently is out of town, she said.
Recently hired WFAA8 news director Carolyn Mungo called her in late Wednesday morning to deliver the news that her contract would not be renewed when it expires in October, Denmon said. The station is paying her in absentia for the roughly 90 days remaining on the contract, she said.
Denmon also confirmed that "it's standard in Belo contracts to have a non-compete" in signed contracts. "And yes, I do have one."
Depending on the station, such clauses generally prohibit a former employee from being on the air in the same TV market for six months after they depart. WFAA8 is owned by Dallas-based Belo Corp., whose headquarters are across the street in downtown Dallas from WFAA8 studios and
The Dallas Morning News
, also a Belo property.
As
reported previously on unclebarky.com
, Denmon charged the ABC affiliate with discrimination against her in regards to promotion opportunities. An arbitrator ruled against her in November of last year. Denmon, who earlier had co-anchored WFAA8's
Daybreak
program, had applied to be a co-anchor on the station's 5 p.m. weekday newscasts. Shelly Slater instead got the position.
Reacting to the arbitrator's ruling at the time, WFAA8 president and general manager Mike Devlin said in a statement the station is "grateful that the arbitrator's decision was based on the clear facts of the case, and on the merits of the legal claims."
"We made legitimate business decisions based on performance," Devlin continued. "And at the end of the day, the arbitrator confirmed that there was nothing wrong with our doing so. We have always stood by our decision, and we are glad we fought this to the end and obtained complete vindication of any wrongdoing,"
Roughly 20 WFAA8 employees, including longtime WFAA8 sports anchor Dale Hansen, were called in to testify before the arbitrator eventually ruled against Denmon. A clause in WFAA8 contracts mandates that any claims of discrimination be resolved in binding arbitration rather than in a courtroom.
Denmon had contended that her plus-sized figure in part had kept her from being promoted ahead of other WFAA8 anchors with less tenure at the station.
She most recently had co-anchored WFAA8's evening and late night weekend newscasts. She began doing so in February 2010.